Winter Weekend Wardrobe: Where to Go This Winter & What to Wear
Read on for the top places I love to travel to during winter, plus my tips for your winter weekend wardrobe.
Fall Foliage Destinations
There is nothing like taking a trip to see some beautiful fall foliage. As soon as the cooler temperatures and shorter days hit, I immediately have a desire to get away for a change of scenery. From the bright reds of New England to the yellows and oranges of the Midwest, there are so many amazing places to see fall colors here in the US.
Here are a few of my top recommended places to visit this time of year:
Portland, Oregon
Camden, Maine
Smoky Mountains in Tennessee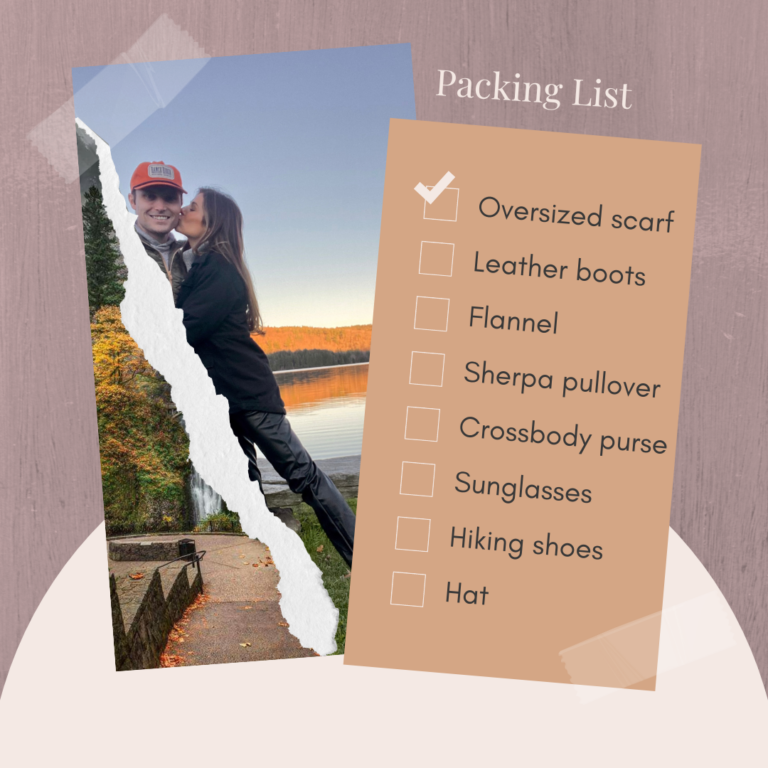 Of course, with this kind of trip, you should expect to spend more time outdoors and will need to pack accordingly. Warm boots, long coats, and hats are a must! Check out my outfit picks below for some of the pieces I have bought or love for a fall foliage getaway.
There's something about a winter ski trip that just feels so luxurious. Maybe it's the idea of being bundled up in a cozy cabin, or maybe it's the chance to finally relax away from the busyness of the holiday season. These ski trips often take place in some of the most beautiful and scenic locations in the world, so it's not hard to see why ski trips have become one of the most popular winter vacations.
Some of the best ski trip vacations include:
Vail, Colorado
Breckenridge, Colorado
Jackon Hole, Wyoming
Salt Lake City, Utah
Packing for a ski trip is very different than packing for any other kind of normal winter trip. Not only do you need cozy sweaters to lounge around in and jeans to go out to dinner, you also need adequate ski gear for the week. Buying brand new ski gear can be very expensive, so make sure to ask around between friends and family if it is your first time! If you are lucky enough to live near a skiing destination, you might want to invest in some ski clothes you can wear each time you go. And don't worry! I was excited to find the cutest ski wardrobe that will have you hitting the slopes in style for your winter weekend trip.
There is no place like the Big Apple during the holidays. With its sparkling lights, cheerful hustle and bustle, and festive atmosphere, it is a magical place to be during the Christmas season.
If you are planning a trip to New York City during the holidays, here are a few things you should include on your itinerary:
Tree lighting in Rockefeller center

Ice skating (I recommend Bryant park, Rockefeller Center, or Central Park)

Tea at The Plaza Hotel

Christmas shopping on Madison Avenue & seeing the holiday window displays

Go see the Rockettes

Get an espresso martini from Ralph Lauren's Polo Bar
As much fun as NYC is during Christmas, there are a ton of other cities that are great to visit while the holiday season is in full gear. Some other ideas are:
Chicago
Austin
Portland, OR
Atlanta

Indianapolis
When going to NYC, always check the weather beforehand. It can be pleasantly chilly during this time or you could get caught in a random snowstorm. So, always look ahead of time as your packing can be drastically different. Below are some outfit ideas for what I would pack to spend Christmas in the city.
Longing for that warm summer sunshine on your skin that feels like so far away in the dead of winter? Me too! The short dreary days of winter can get depressing after the holiday season is over and a tropical vacation can completely reset your mood with a little slice of paradise.
Some of my favorite getaway spots during winter are:
Puerto Rico
Miami
Basically anywhere in the Caribbean!
All of your swimsuits and summer clothes stored in the attic or in boxes at the top of your closet? Same. And it can feel a little funny to pull out those bright colored summery pieces in the dead of winter. Call me weird, but I just cannot put on a hot pink bikini in December. I like to still at least wear dark colors given the time of year. So I've put together some of my favorite pieces I am shopping this winter for any warm vacation I'm going on!
All this talk of jet setting around the US this winter may have you dreaming up your next vacation, but when it gets down to it, there is really no place like home. It's hard to beat spending time with your family and loved ones you don't get to see often, cozied up by the fire, catching up. And if you're anything like me, when it comes to being home for the holidays, getting dressed up and going out is the LAST thing I want to do!
So I've put together a list of cozy winter staples I'm shopping this year and will be sure to take home with me when I go home for the holidays.