So you are planning a vacation or researching what to pack for Hawaii? How exciting! Hawaii is a popular destination for all types of travelers. Whether you are looking to relax on the beach or explore the islands, there is something for everyone in this tropical paradise. 
When planning a trip to Hawaii, packing can be overwhelming. With so many activities and climates to consider, it's important to pack strategically. As someone who has traveled to Hawaii, I've learned what items are essential to bring for a comfortable and enjoyable vacation.
First and foremost, it's important to pack appropriate clothing for the various activities you plan on doing. There are a few other items that are essential for a Hawaii vacation, such as sunscreen, sunglasses, a hat and other various items to keep you comfortable during your trip.
So whether you are planning a relaxing trip to soak up the beaches in Mauai or planning to zipline through the jungle in Kauai, I've got you covered with what to pack for Hawaii. Let's jump in!
What To Pack For Hawaii Vacations
When packing for Hawaii, what you bring will depend largely on what you plan to do during your trip. If you're spending most of your time at the beach, you'll need plenty of swimsuits, coverups, and sandals. If you're planning on doing more adventurous activities, you'll need to pack more athletic clothing and comfortable shoes. In either case, it's a good idea to pack light, breathable clothing that won't overheat you in the tropical sun. Keep reading for plenty of outfit ideas for both types of vacations that will have you looking stylish while also being practical.
Understanding Hawaii's Climate
Hawaii is known for its warm, tropical climate, but it's important to understand the nuances of the weather patterns when packing for your vacation. The weather can vary greatly depending on the time of year and location within the islands.
Generally, Hawaii has two seasons: a dry season from May to October and a wet season from November to April. However, even during the dry season, it's important to be prepared for occasional rain showers, especially in the afternoons. It's always a good idea to pack a light rain jacket or umbrella just in case.
Temperatures in Hawaii typically range from the mid-70s to mid-80s Fahrenheit, but can feel much warmer due to the high humidity. Be sure to pack lightweight, breathable clothing to stay comfortable in the heat. It's also important to pack sunscreen with a high SPF as the sun in Hawaii can be intense.
If you plan on exploring higher elevations, such as hiking in Haleakala National Park or visiting the summit of Mauna Kea, be prepared for cooler temperatures. It's a good idea to pack a light jacket or sweater for these excursions.
In summary, when packing for your Hawaii vacation, be prepared for warm, humid weather with occasional rain showers. Pack lightweight, breathable clothing, sunscreen, and a light rain jacket or umbrella. If you plan on exploring higher elevations, pack a light jacket or sweater.
Hawaii Vacation Essentials
When packing for a Hawaii vacation, it's important to bring clothing items that are comfortable, lightweight, and versatile. Here are some essential clothing items that I always make sure to pack: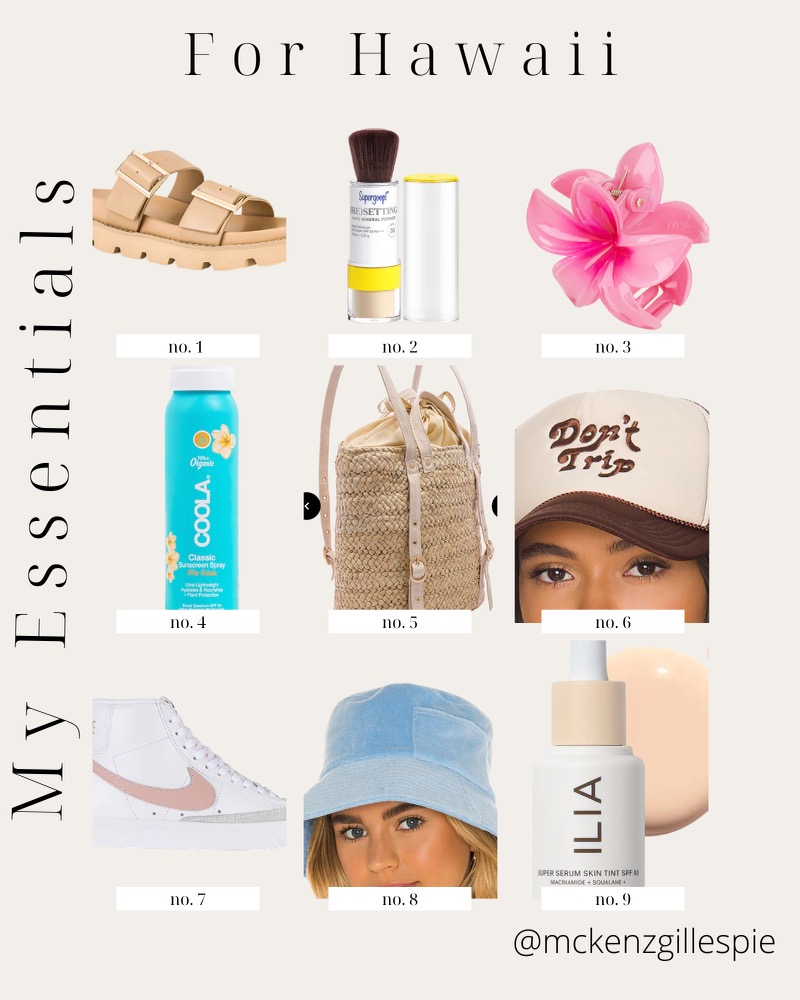 Click the image or click here to shop any of these looks.
Swimsuit
Hawaii is known for its beautiful beaches, so a swimsuit is a must-have item. I recommend bringing at least two swimsuits so that you always have a dry one to wear.
Don't forget your cute beach bag! This will come in handy for carrying all of your other essentials and also add to your outfit of course. I am loving this backpack one for how convenient and easy it is to carry!
The sun is strong in Hawaii and you'll want to protect your skin from burns. Not all sunscreens are created equal, and some can be harmful to the ocean's delicate ecosystem. I recommend using reef-safe sunscreen to protect your skin and the environment. You can find reef-safe sunscreen at most grocery stores in Hawaii. Make sure to apply sunscreen before heading to the beach and reapply every two hours.
If you want the prettiest glow, I love this one.
Insect repellent
If you live in the South like me, I was bummed to realize I'm not leaving the mosquitos behind while on vacation. Hard to imagine magical places like Hawaii are also burdened by these same pesky insects! Hawaii is full of mosquitos though, which sometimes can carry diseases, so be sure to bring enough insect repellent for your group. 
Shoes
In order to avoid overpacking, I like to find shoes that fit multiple uses during my trip. For instance, when traveling I want to wear comfortable shoes, so I'll make sure I bring a pair of sneakers I can wear in the airport and also don't mind getting dirty while hiking. I love these sneakers for both casual travel and physical exercise. For the beach, you will want to bring a pair of sandals. My recommendation is to bring a pair that is a neutral color you can wear with multiple outfits, swimsuits, and even to dinner at night if you want to be comfortable. This pair is perfect for all of those occasions. Lastly, bring one pair of fun shoes! It's not every day you get to dress up for a tropical dinner in Hawaii, so bring that pair of heels in your closet you've been dying to wear! These are the ones I'm excited to wear 😉
Hats
Packing hats is something often overlooked, but you will be so thankful you remembered these when out and about in the Hawaiian sun. I would bring a sun hat for the beach days and some sort of athletic hat for exploring that can also be worn on travel days. This is the hat I've been loving all summer!
Cover-up
A cover-up is perfect for when you're walking around town or grabbing a bite to eat after a day at the beach. Look for one that is lightweight and breathable.
Sunglasses
Not only do sunglasses protect your eyes from the sun, but they also add a stylish touch to any outfit.
Beach towel
A beach towel is a must-have when visiting Hawaii. You'll need it to dry off after swimming or lounging on the sand. I recommend packing a lightweight and quick-drying towel that won't take up too much space in your luggage. You can also buy a beach towel at most grocery stores in Hawaii if you don't want to bring one with you.
When packing for a Hawaii vacation, it's important to keep in mind the limited space in your suitcase. Stick to versatile clothing items that can be mixed and matched to create different outfits. Additionally, consider packing items that can serve multiple purposes, such as a sarong that can be used as a beach cover-up, scarf, or even a picnic blanket.
Note: This article may contain affiliate links, which means I may earn a commission if you make a purchase through my link. However, all recommendations are my own and I only recommend products that I personally use and love.
Outdoor Adventure Gear
Hiking Boots
When planning an adventurous trip to Hawaii, it's important to pack a good pair of hiking boots. Hawaii's rugged terrain requires sturdy footwear that can handle rocky trails and steep inclines. If you are not planning any strenuous hikes, a good pair of athletic shoes should do.
Rain Jacket
Although Hawaii is known for its sunny weather, it's always a good idea to pack a rain jacket. The islands are prone to sudden rain showers, especially in the higher elevations. A lightweight, waterproof jacket is perfect for keeping dry without adding bulk to your luggage.
Water Bottle
Staying hydrated is crucial when exploring Hawaii's outdoor adventures. I always bring a reusable water bottle to refill throughout the day. Not only is it better for the environment, but it also saves money on buying bottled water.
Overall, when packing for an outdoor adventure in Hawaii, make sure to include a good pair of hiking shoes, a rain jacket, and a reusable water bottle. These essentials will ensure a comfortable and enjoyable experience while exploring the beautiful Hawaiian landscape.
Outfits For Hawaii Trip To Pack
Now for my favorite part…the clothes! Finding Hawaii outfit ideas has been so much fun while planning for this trip. Sorry males, but this is a Hawaii packing list females only will enjoy. I'm about to go through what clothes I've been shopping for my trip to Hawaii and some Hawaii vacation outfits I'm bringing.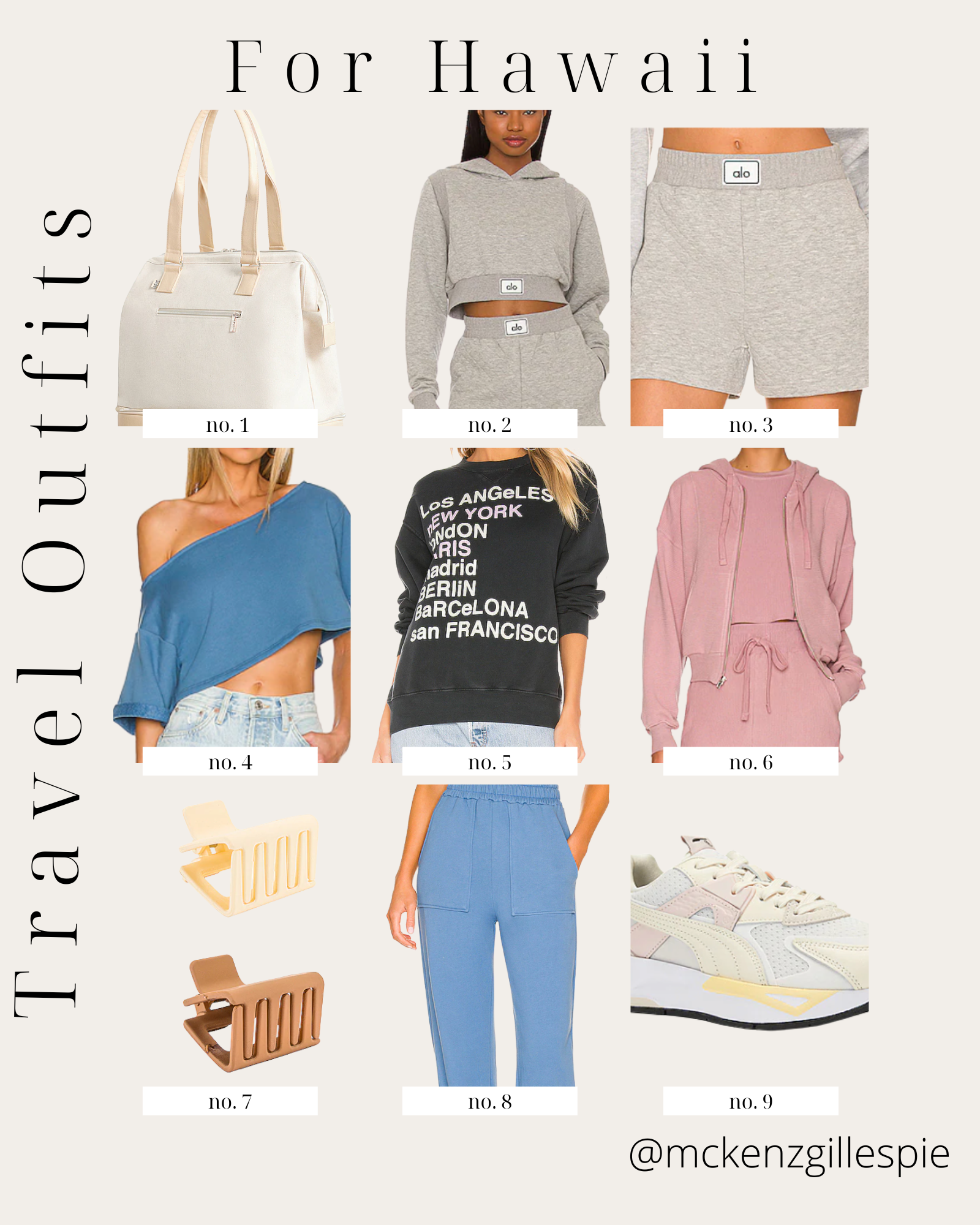 Click the image or click here to shop any of these looks.
Our trip starts in Oahu where we will be exploring the island, going to the beaches, and probably snorkeling. So, for this part of the trip I'm bringing the outfits below:
Travel look for our flight to Honolulu

2-3 day time casual cute outfits with comfortable sandals or sneakers

2-3 swimsuits with coverups (making sure one I can wear all day)

1 athleisure outfit in case we go hiking

2 outfits for dinners in Oahu
Next, we go to Kauai where we will be doing a lot more exploring and outdoor activities. I even rented us a jeep where we can take the top off for driving around the island. For this leg of the trip, this is what I will be packing:
3-4 workout sets for hiking (also recommend bringing a small backpack to put your sunscreen, a swimsuit, and other necessities like your car keys in)

4 swimsuits 

Casual outfits I can wear a swimsuit underneath (for unexpected beach stops)

4 dinner outfits 
Clothes to Wear in Hawaii
First, let's start with the practical Hawaii outfit ideas. Just because you are going to be exploring outdoors doesn't mean you can't look super cute while doing it. 
Click the image or click here to shop any of these looks.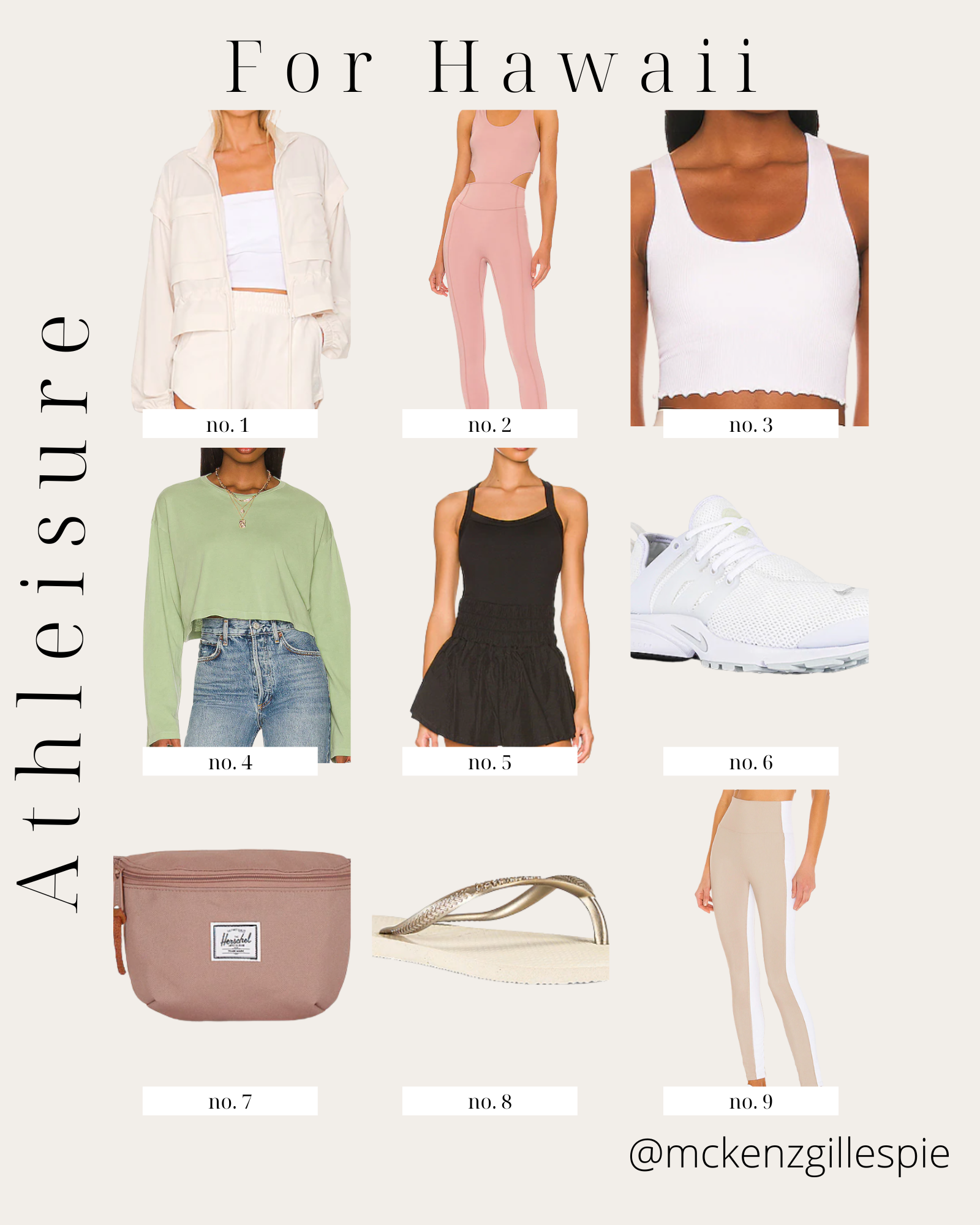 Hawaiian Bathing Suits
This should be your #1 outfit for your trip if you're doing it right! It's probably safe to say about 80% of your suitcase will be swimsuits and coverups when packing for Hawaii.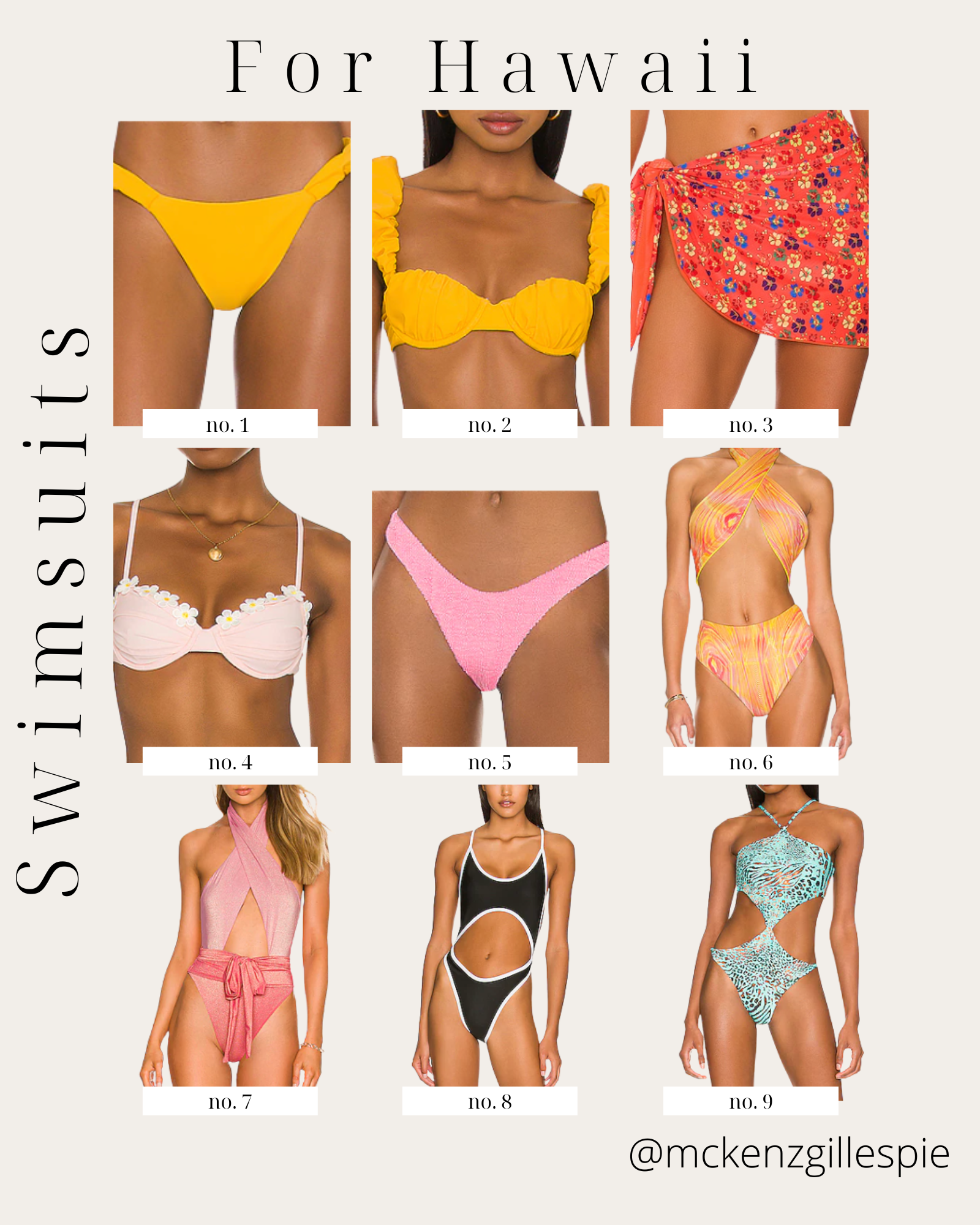 Click the image or click here to shop any of these looks.
Dresses, Coverups, and Rompers Oh My!
When thinking about what to pack for Hawaii, you'll most likely find picture youself in a breezy dress or coverup. The vibe of Hawaii is casual and laid back but also fun and funky, so really anything goes! If you're like me, you will want to take advantage of the tropical atmosphere with vibrant colors and funky prints. Here are some of my Hawaii outfit ideas I have been shopping myself.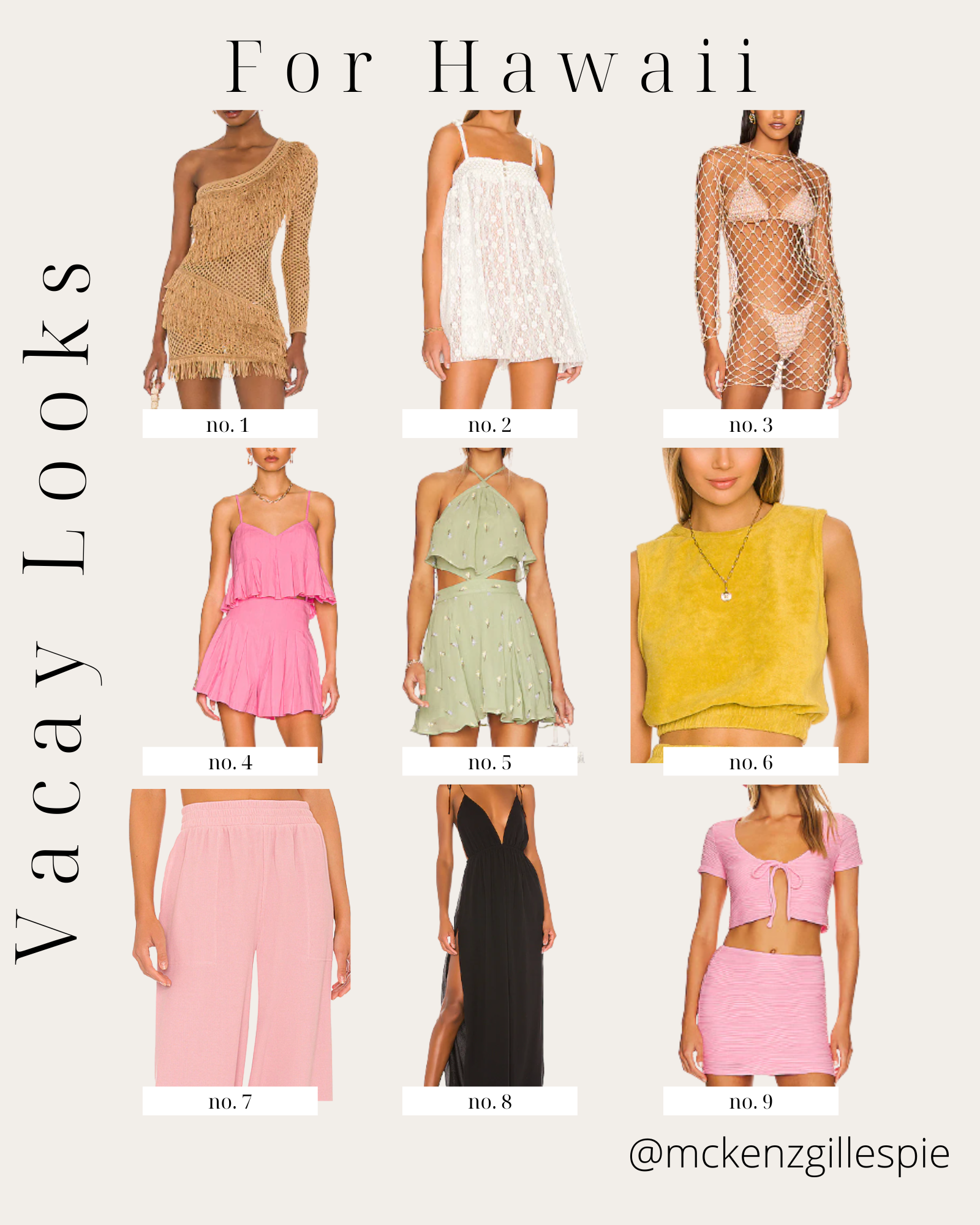 Click the image or click here to shop any of these looks.
Hawaiian Themed Clothes 
Let's talk about how to dress "Hawaiian" without seeming like a stereotypical tourist. Although when you picture how to dress in Hawaii you may think of bright floral patterns and flowers in your hair, that isn't exactly how locals dress all the time. Think more along the lines of a tropical beach vacation when shopping than how you'd dress at a luau.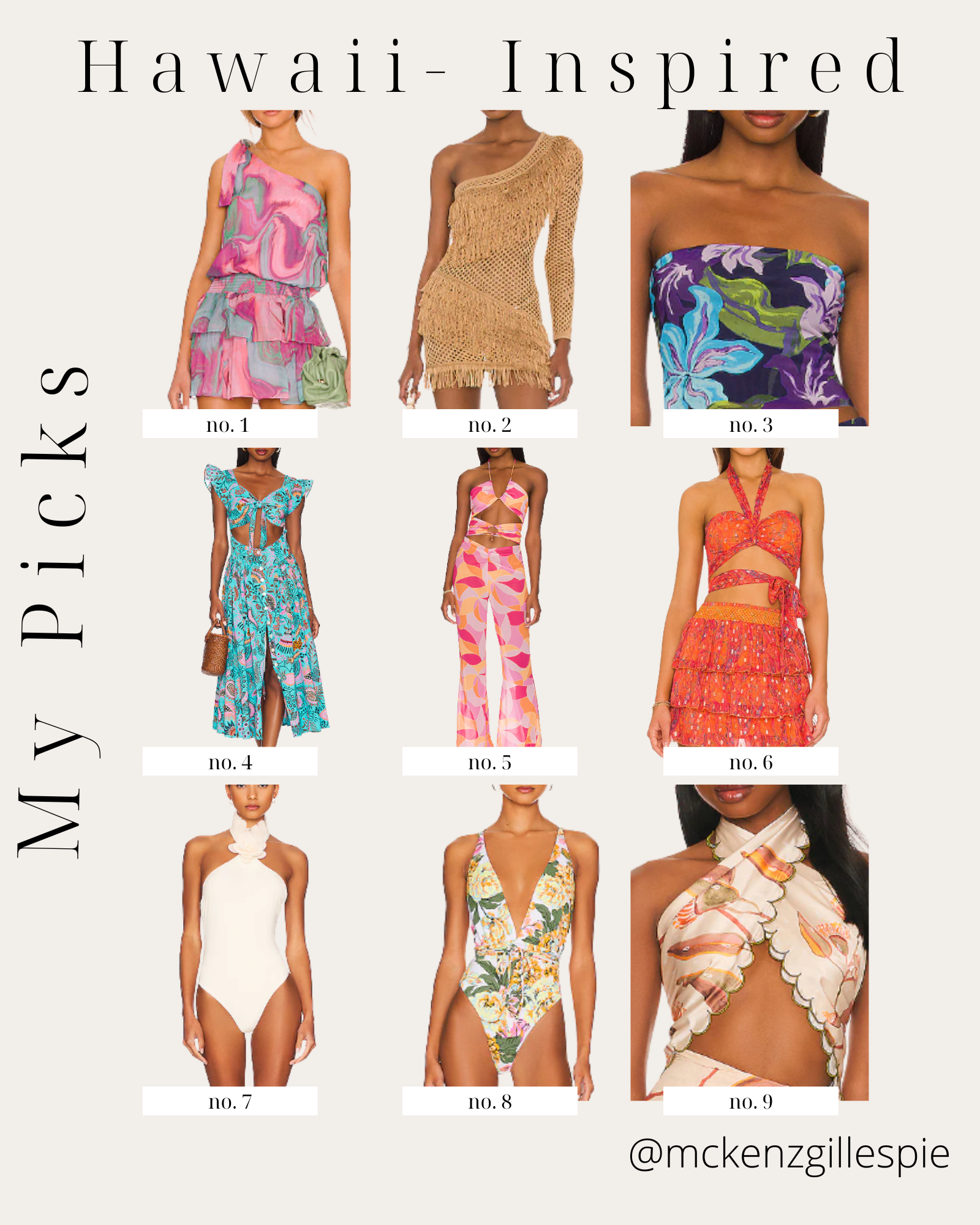 Click the image or click here to shop any of these looks.
Hawaiian Outfit Ideas
Now that I've gone through each type of clothing to pack, I have decided to put some Hawaii outfit ideas together to make what to wear in Hawaii even easier!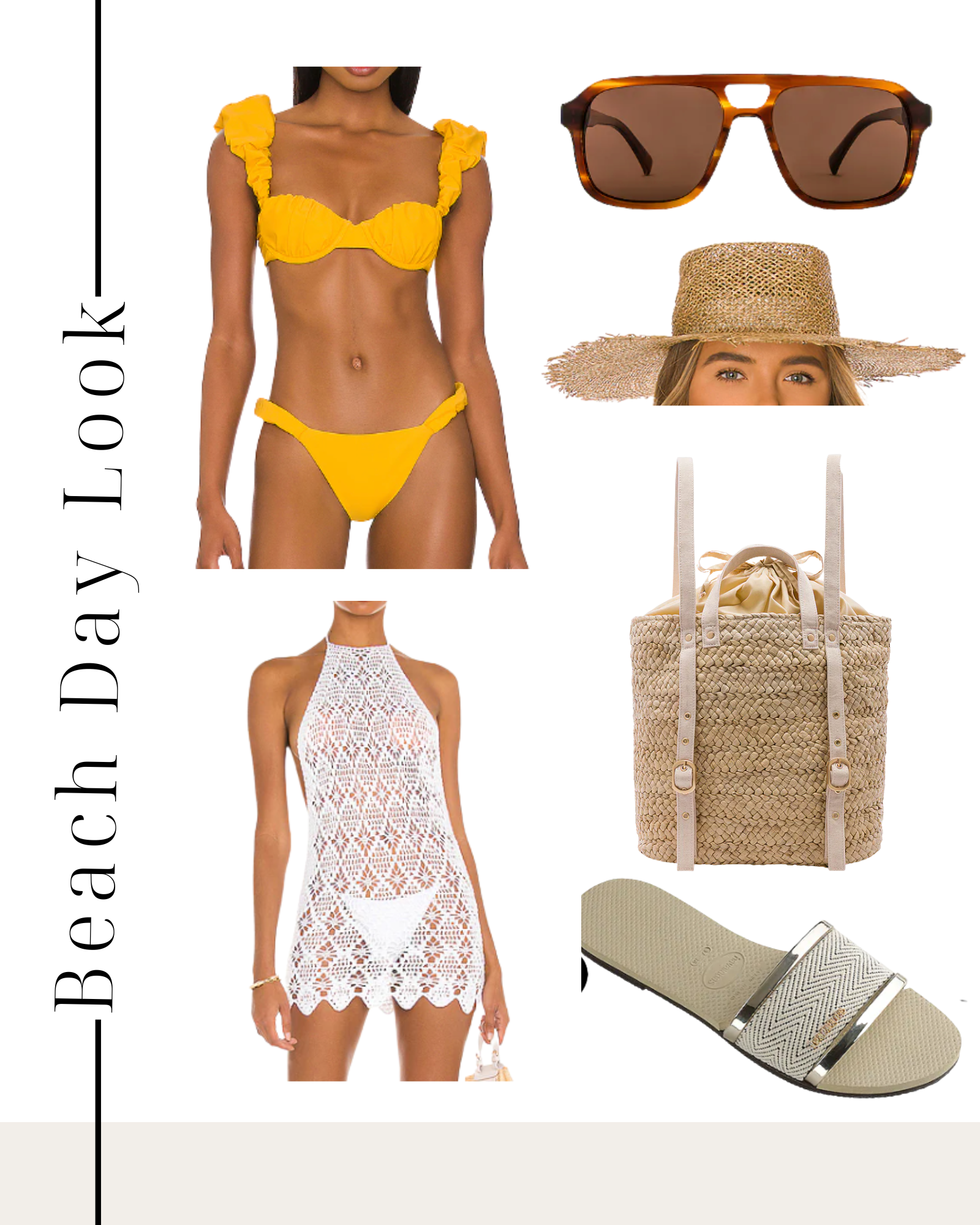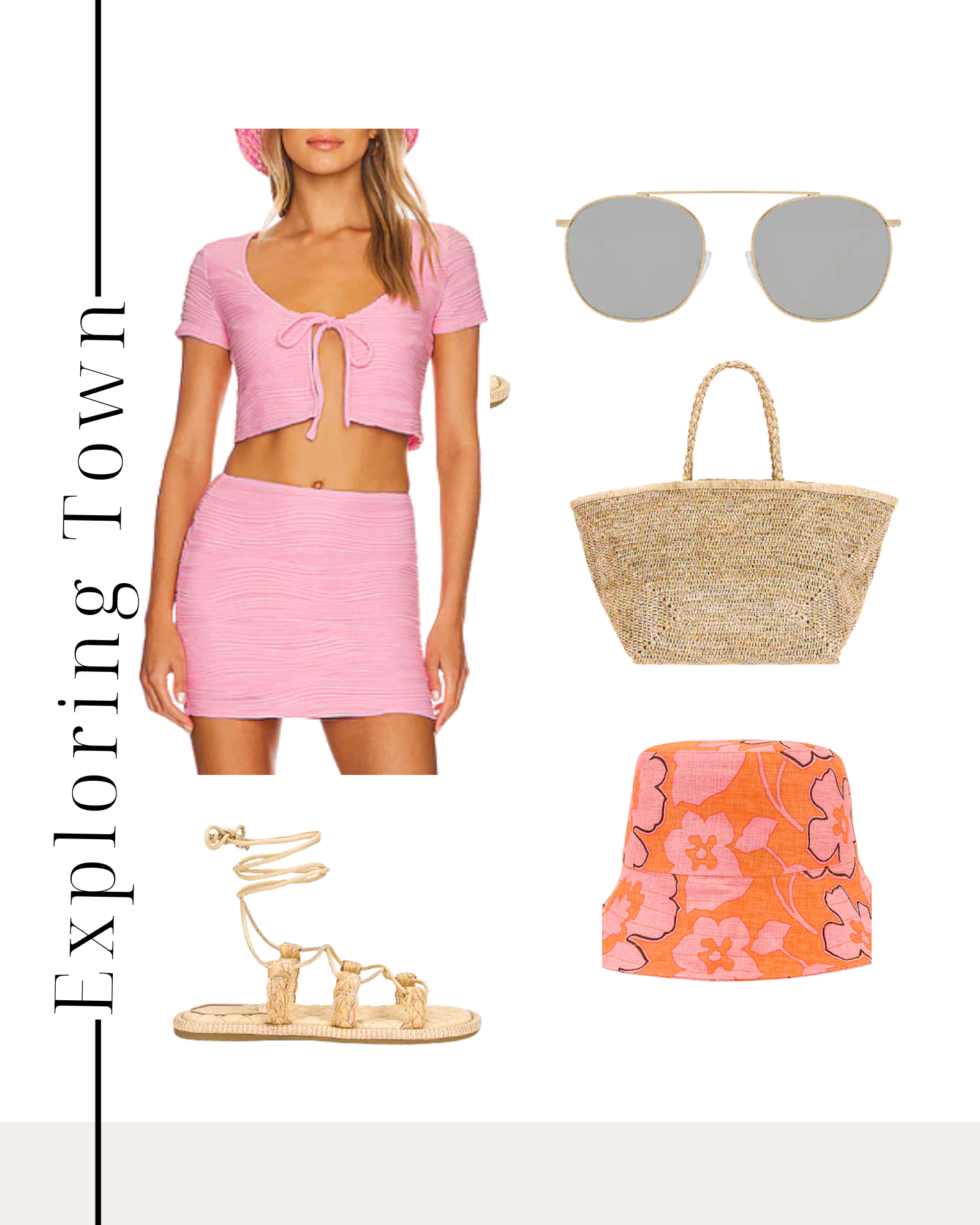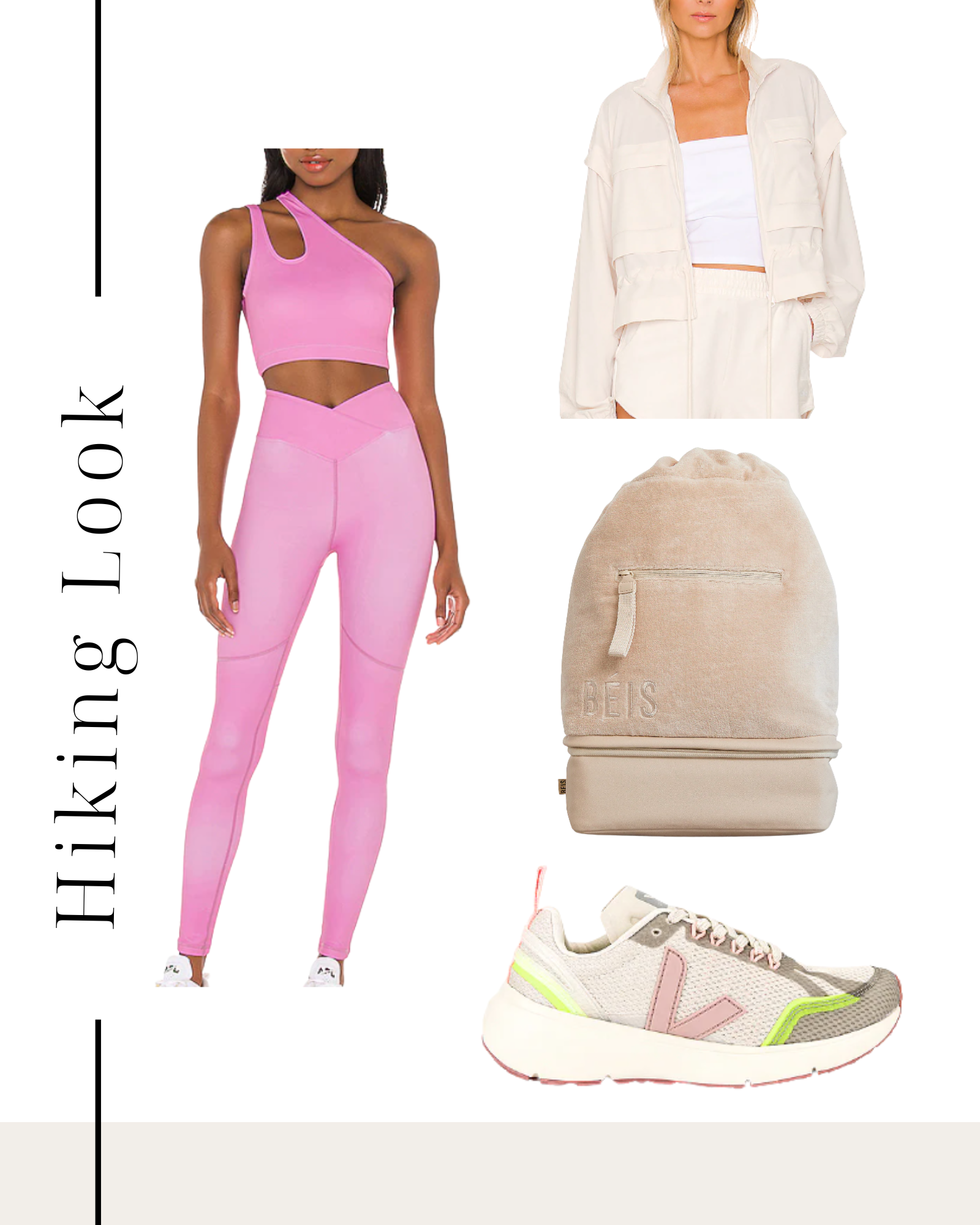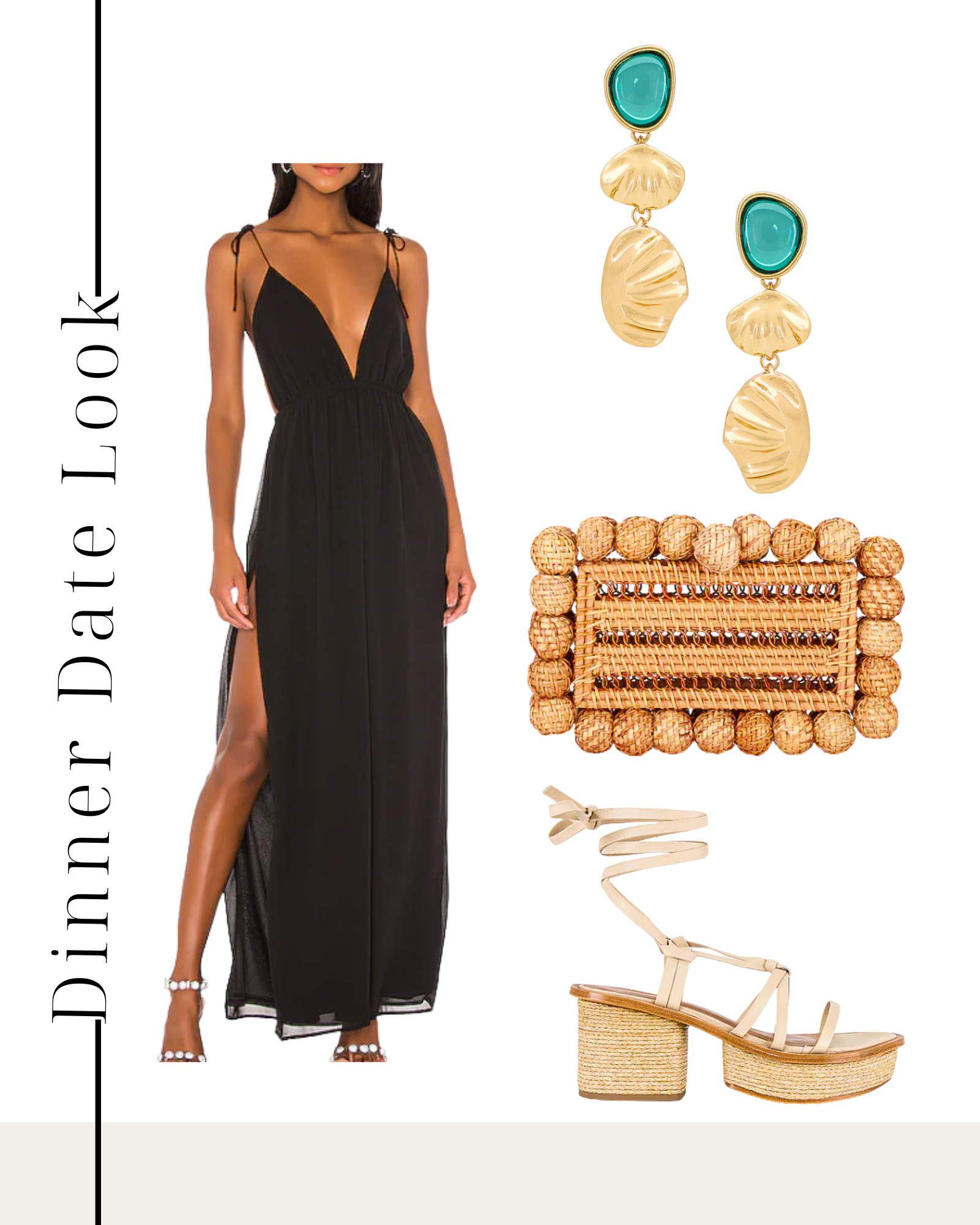 Important Documents
As I prepare for my upcoming Hawaii vacation, I know that having the right documents is crucial to ensure a smooth and stress-free trip. In this section, I will discuss the two most important documents that I will need to bring with me: my passport and travel insurance.
Passport
Obviously, a passport is the most important document that you will need to bring to Hawaii if you are not a United States citizen. While you do not need a passport if you a U.S. citizen, you do need to have a government-issued ID to show along with your ticket. This can be your driver's license or passport.
Travel Insurance
Travel insurance is another important topic to consider before visiting Hawaii. In the event of an unexpected illness or injury, travel insurance can provide coverage for medical expenses, trip cancellations, and other unforeseen circumstances. Make sure to read my travel insurance policy carefully to understand what is covered and what is not covered.
Having the right documents is essential for a successful Hawaii vacation. By making sure that your passport or other identification document is up-to-date and bringing along your travel insurance policy, you can relax and enjoy your trip without worrying about any unexpected issues.
How Many Days To Visit Hawaii?
When planning a Hawaiian vacation, one of the first questions to consider is how many days to spend on the islands. As someone who has visited Hawaii, I recommend a minimum of five days to truly experience the beauty and culture of the islands.
For those interested in visiting multiple islands, I suggest adding two to three days per island. For example, if you want to visit the Big Island and Maui, plan for at least 7 days. This will allow time for travel between islands and to fully explore each destination.
When deciding how many days to spend in Hawaii, it is important to consider what activities and sights you want to experience. If you plan on spending a lot of time relaxing on the beach, you may want to add a few extra days to your itinerary. On the other hand, if you are interested in hiking, exploring volcanoes, or taking a helicopter tour, you may be able to fit more activities into a shorter trip.
Keep in mind that car rental is a popular option for exploring the islands, so be sure to factor in rental time when planning your itinerary. Overall, I recommend spending at least five days in Hawaii to fully experience the beauty and culture of the islands.
In conclusion, packing for a Hawaii vacation can be a breeze if you plan ahead and pack smartly. As I mentioned earlier, it's important to consider the activities you'll be doing and the weather conditions you'll encounter.
Overall, packing for a Hawaii vacation doesn't have to be stressful. With a little bit of planning and preparation, you can enjoy a stress-free and comfortable vacation in paradise.
Check out these related blog posts below: