With the holiday season just around the corner, it's time to start thinking about all the parties and get-togethers that come with it. For many, choosing what to wear can feel slightly daunting, especially when it comes to a holiday party at work, but don't worry because I've got you covered!
To help take the stress out of choosing an outfit, I've rounded up some holiday work party outfits that are sure to impress. From classic cocktail dresses to chic jumpsuits, there's something for everyone. These outfits strike the perfect balance between festive and professional, so you'll look stylish without breaking any workplace dress codes.
So whether you're attending a formal work party or a more casual gathering, these outfit ideas will give you some inspiration. With a little bit of planning, you can find the perfect holiday work party outfit that will have you looking your best all season long.
12 Holiday Work Party Outfits
Looking for the perfect outfit for your upcoming holiday work party? Look no further! Here are 12 outfit ideas that are sure to impress.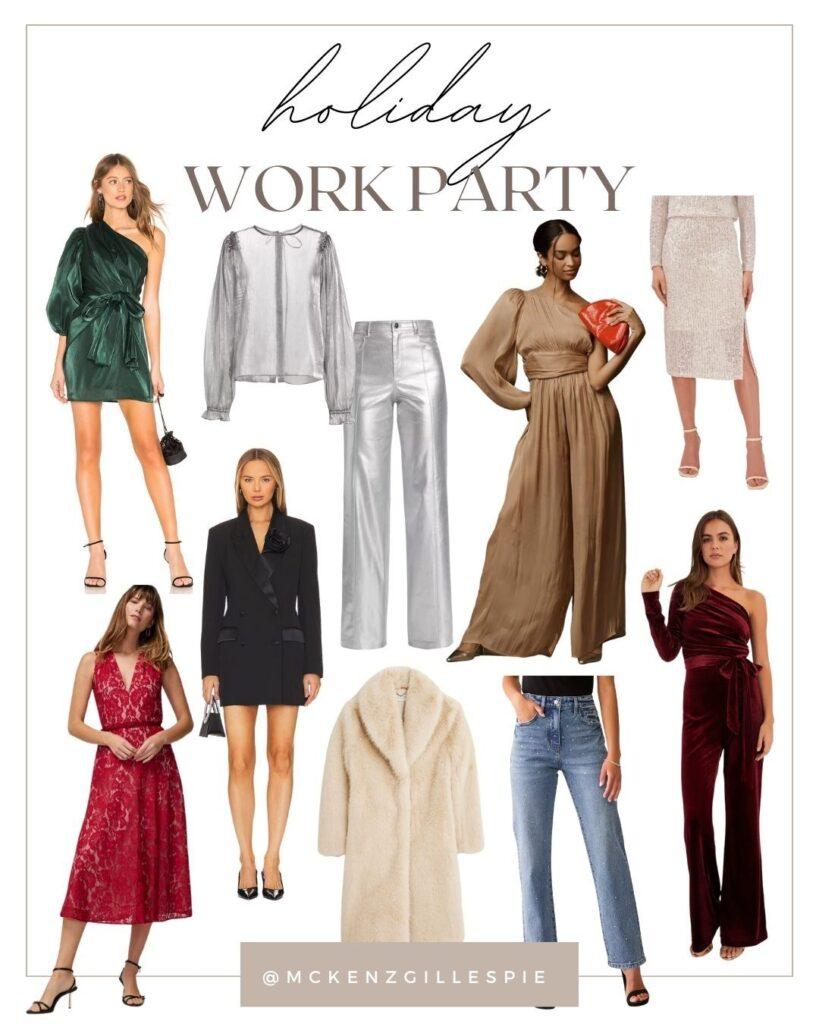 1. Classic Cocktail Dress
A classic cocktail dress is always a safe bet for a holiday work party. It's appropriate for most dress codes and can be dressed up or down with accessories. Opt for a festive color like red or green to get into the holiday spirit. I think this green mini dress is the perfect piece for a holiday work party or a night out with friends. Pair it with some black booties and a leather jacket for a more edgy look, or add some sparkly heels and statement jewelry for a more glam vibe. Don't forget to grab a clutch or small crossbody bag to complete the look.

2. Velvet Jumpsuit
As someone who loves to make a statement with their fashion choices, the idea of wearing a velvet jumpsuit to a holiday work party is a great option. Not only is it effortlessly chic, but the luxurious fabric is perfect for the winter season. And let's not forget about comfort – you'll be able to snack on hors d'oeuvres and dance the night away with ease. To top off the look, accessorize with statement earrings and heels to elevate the outfit. With this look, you'll be sure to turn heads while showing off your unique sense of style at any holiday party.

3. Sequin Skirt
A sequin skirt is another great option for a festive and fun look at your next office holiday party. It's a statement piece that adds a touch of glamour to any outfit. To balance out the sparkle, I recommend pairing the skirt with a simple blouse and classic pumps. Avoid too many accessories, as it will only detract from the skirt and your overall look. Be prepared to take center stage as the star of the show and dazzle your colleagues with your chic style.

4. Tuxedo Dress
A tuxedo dress is a modern and sophisticated choice for a holiday work party and a trend that I absolutely love. It's a great alternative to a traditional cocktail dress and perfect for a work event. Dress it up with statement earrings and strappy heels, or dress it down with a simple necklace and classic pumps. The options are endless with this versatile piece. Not only is it a sophisticated choice, but it's also comfortable enough for a long night of celebrating with coworkers and friends.

5. Metallic Blouse and Trousers
Another pairing that I love for the holidays is a metallic blouse and trousers! This trendy and professional choice will give you that standout moment. The metallic fabric adds just the right amount of festive sparkle without going overboard. And don't worry about finding the perfect accessories to match – simple heels and a clutch are the perfect finishing touches to this chic ensemble. Be the talk of the party (in a good way) with this stylish option.

6. Lace Dress
A lace dress is the perfect choice for a classic holiday work-party look. The unique design adds a touch of femme, making it a staple for any wardrobe. I love this red option because it is versatile and can be worn year-round, but it's especially fitting for the holiday season. I recommend pairing it with classic pumps and a stylish handbag for an elevated look that is both chic and effortless.

7. Statement Jumpsuit
Looking for a stunning statement piece to rock at your next holiday work party? Look no further than this bold and fashion-forward jumpsuit. I recommend this one-shoulder metallic jumpsuit, which promises to elevate your style game. I love the eye-catching design and shimmering fabric. To make the most of this fashion moment, keep the accessories simple and let the jumpsuit be the star of the show.

8. Faux Fur Jacket and Jeans
If you're after a stylish and comfy, but not overly formal, look for your upcoming holiday work party, opt for a faux fur jacket and jeans. It's a laid-back combo that exudes sophistication. The faux fur jacket adds a festive sparkle and a touch of glamour, while the jeans keep you comfortable all night long. Wrap up the look with ankle boots and bow statement earrings for a cozy yet fashionable vibe.

9. Satin Slip Dress
This satin slip dress is a classic choice that is sure to capture attention with its flattering fit and luxurious silky material. I love this strapless option that comes in multiple colorways. Paired with some strappy heels and a clutch, you'll be ready for any holiday celebration.

10. Embellished Blouse and Skirt
This embellished blouse and skirt make for a perfect mix of feminine and festive vibes at any holiday work party. Those fancy details not only look amazing but also add a hint of glamour to the outfit. The skirt adds an elevated touch, keeping it classy and elegant. Pair this look with heels and simple jewelry, and you'll make a subtle yet stylish statement at your next holiday work get-together.

11. Fitted Jumpsuit
This year, consider stepping outside of the typical dress box and opt for a fitted jumpsuit. The sleek and modern style is not only comfortable but figure-flattering. Elevate this look with statement earrings and a pair of heels for a chic and fashion-forward vibe This is the perfect outfit to kickstart the holiday season.

12. Metallic Wrap Dress
If you're looking to shine at this year's holiday work party, a metallic wrap dress could be just what you need. Not only is it festive, but it's also feminine and elegant. I love how metallic fabric adds just the right amount of glitz and glamour. Complete the look with strappy heels and a clutch, for a chic and stylish ensemble that's ready to celebrate the holiday season.

Choosing your holiday work party look is all about finding the perfect balance between your personal style and workplace vibes. Before settling on your outfit, take a moment to consider the company culture and dress code. Whether it's a classy cocktail dress or a stylish suit, there are countless ways to look fabulous and enjoy the holiday spirit with your work crew.
No matter what your style or dress code, there's an outfit on this list that's perfect for your holiday work party. Which outfit is your favorite? Let me know in the comments below.
For even more options on what to wear this holiday season check out these Thanksgiving outfit ideas. Happy holidays and happy shopping!