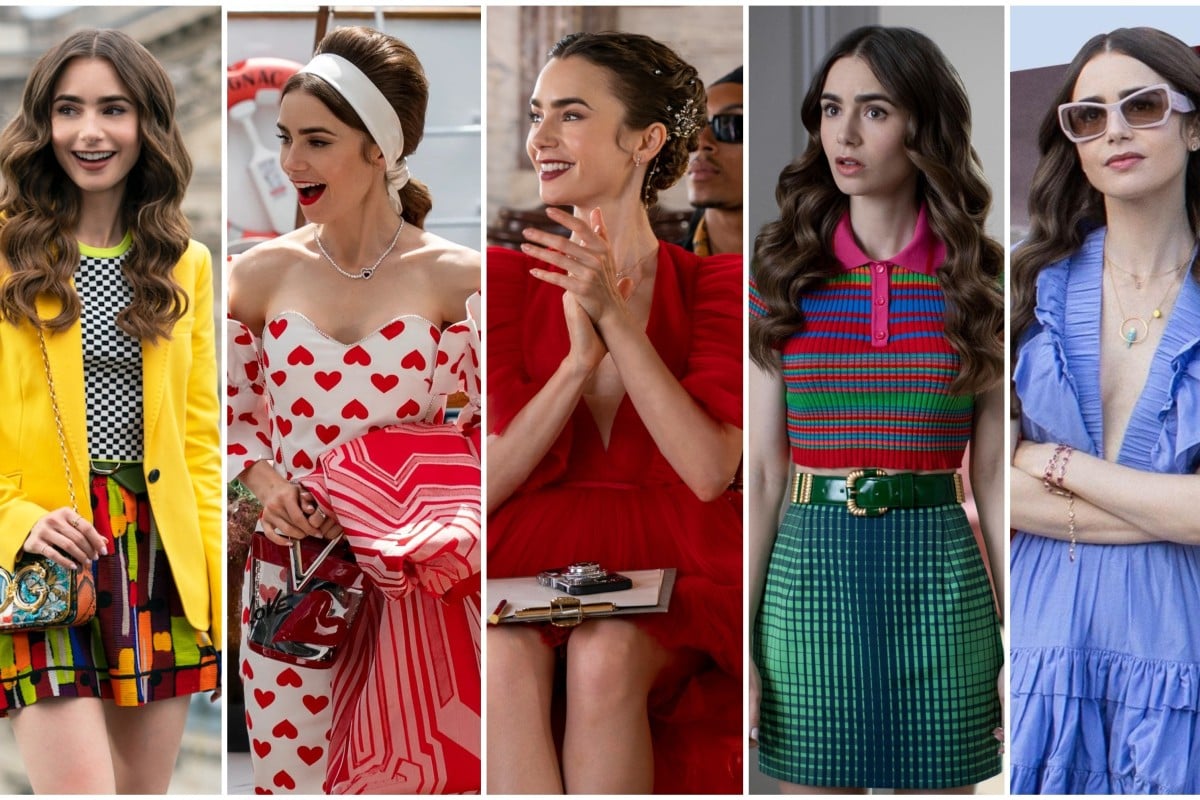 Are you looking for some fresh outfit inspiration? Look no further than the hit Netflix show, Emily in Paris. Starring Lily Collins as the titular character, Emily Cooper, the show follows her adventures in the City of Love as she navigates a new job and a new life. But it's not just the romantic storyline that has captured audiences' attention – it's also Emily's bold and often audacious fashion choices. In this blog post, we'll take a closer look at some of the standout outfits from each Emily in Paris season and how you can recreate them for yourself. Get ready to channel your inner Emily Cooper and bring a touch of Parisian chic to your wardrobe.
Emily In Paris Outfit Inspiration
Emily in Paris has captured the hearts of viewers around the world with its charming storyline, stunning scenery, and of course, the unforgettable fashion. From bold prints and bright colors to chic accessories and statement pieces, Emily Cooper's wardrobe is a feast for the eyes. But let's face it, most of us don't have the budget to wear designer clothing all the time. Luckily, with a little creativity and some strategic shopping, you can recreate some of Emily's most iconic looks without breaking the bank. In this post, we'll show you how to recreate five of Emily's fun looks in an affordable way, so you can channel your inner Parisian and feel like you're strolling the streets of the City of Love. Whether you're looking for a bold statement outfit or a chic and sophisticated look, there's something here for everyone. So grab your beret and let's get started!
Emily In Paris Birthday Dress
Emily looks as pretty as a present in her color blocked bow dress for her birthday dinner. There are a couple of ways to get a similar look. Add a pink ruffled top with a black skirt to mimic the color blocking of Emily's dress. You can also get a similar look to Emily's outfit with this pink dress. While it doesn't have a bow, it gives a similar effect to Emily's dress with the off the shoulder puff sleeves. Add in a bow detail with your bag or shoes. Finally complete the look with pearl drop earrings similar to what Emily wears.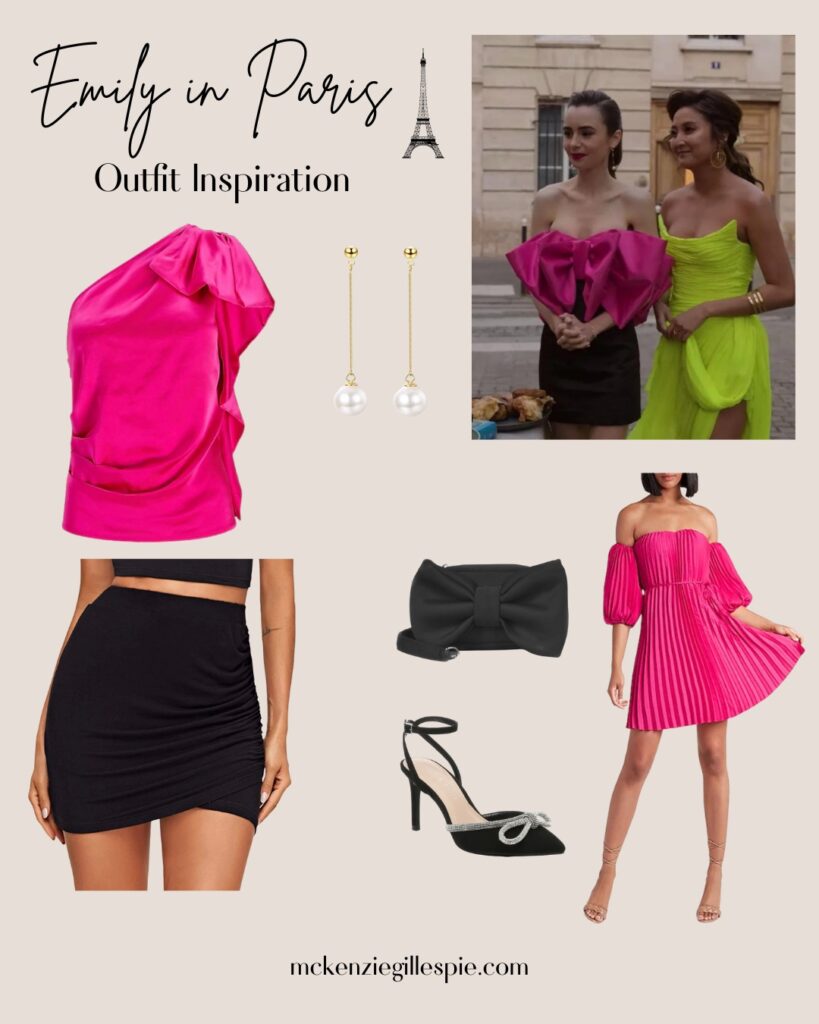 Emily In Paris South of France Look
Emily leaves Paris and spends some time in the French Riviera with her friends. Here she has lots of great party looks. She wears this periwinkle dress to hang out on a yacht. Get this look with a purple ruffled dress, layered necklaces, and fun sunglasses. Emily carries an orange beach bag here. To get the look outside of a beach town, add a pop of orange to your outfit with your shoes.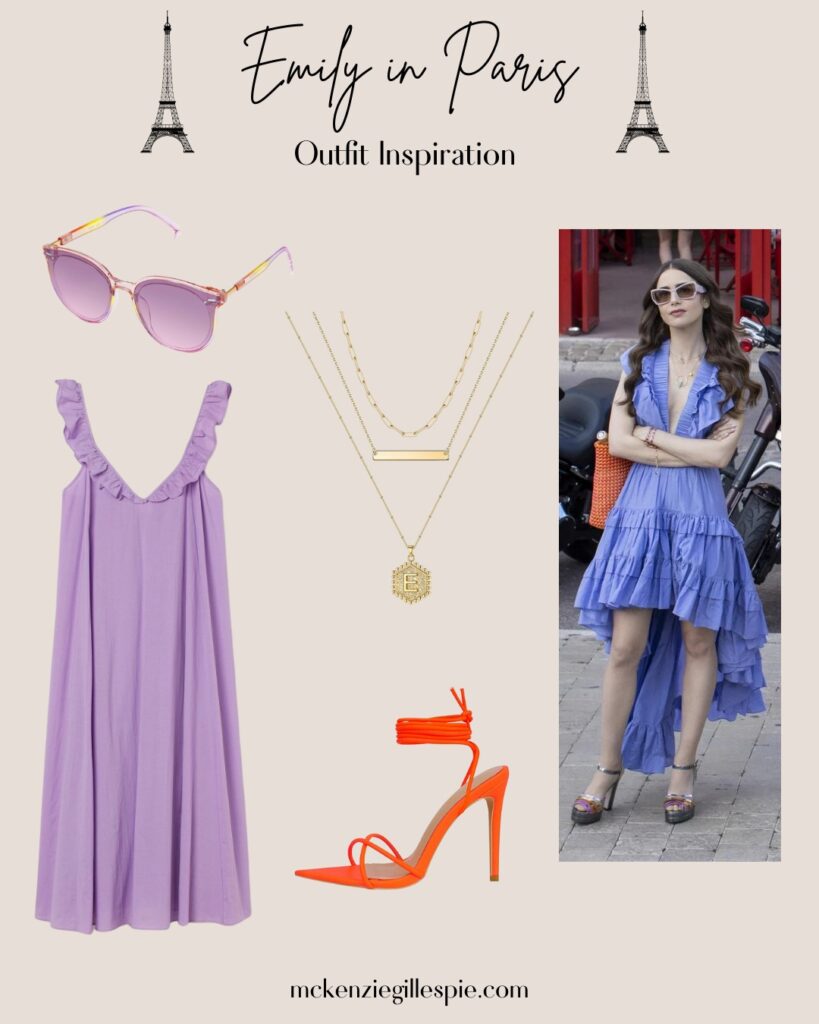 Emily Out in Paris
Emily is seen out and about in this cute look showing that red and pink isn't only for Valentines Day. Here Emily pairs a red off the shoulder top with a pink tweed skirt. To complete Emily's look, add a pearl scrunchie to your hair and a graphic blue handbag.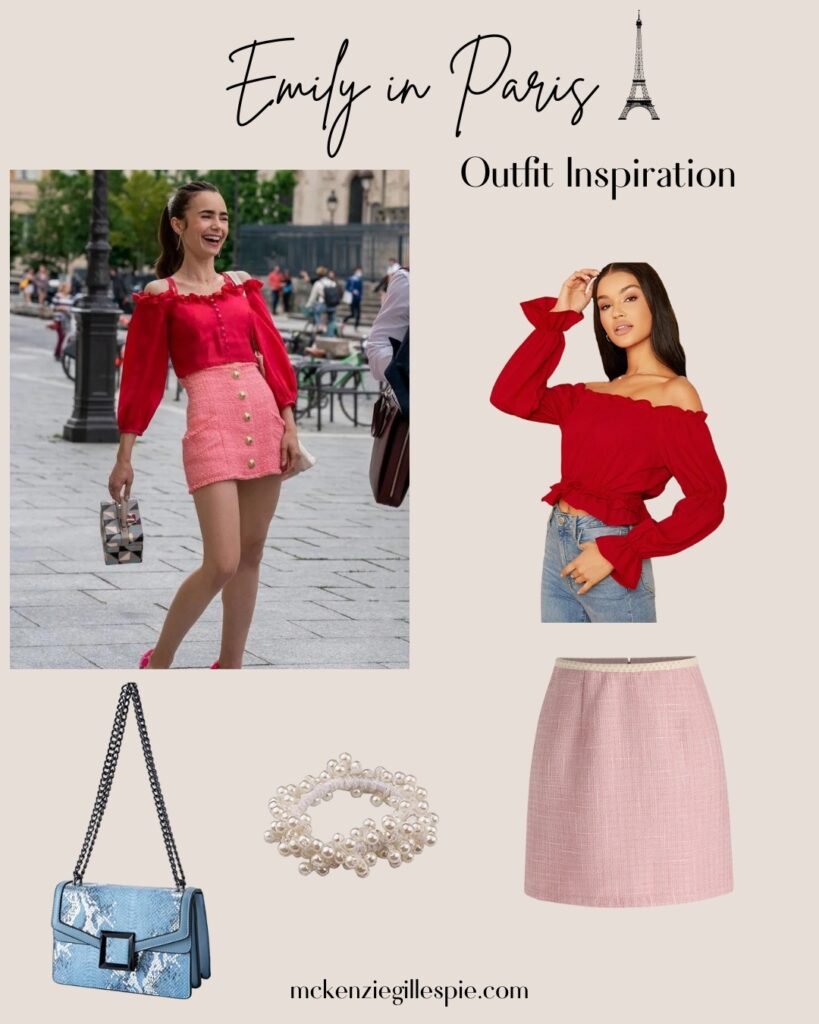 Emily In Paris Pattern Queen
Emily isn't afraid to mix patterns and colors, as you can see in this look. Pair a yellow blazer with a graphic skirt. Emily's t-shirt has a checkered print, but stripes can be a little easier and more subtle if you aren't used to pattern mixing. Finally finish off the look like Emily with knee high boots.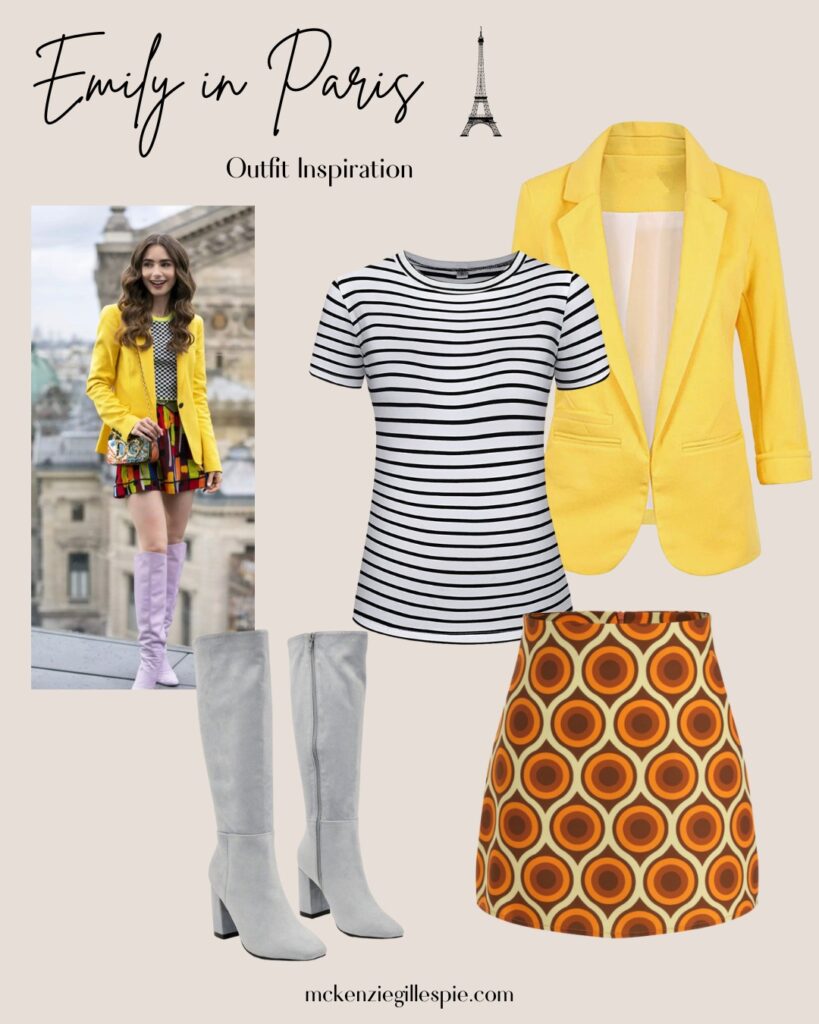 All the Jewel Tones in Emily In Paris
This look is all about jewel tones and fun details. Start with a fur trimmed cardigan and add a skirt with colorful stripes like Emily's. Play off the jewel tones in this look with a berry colored beret and green handbag. Complete this Emily outfit with a pair of gold scrappy heels.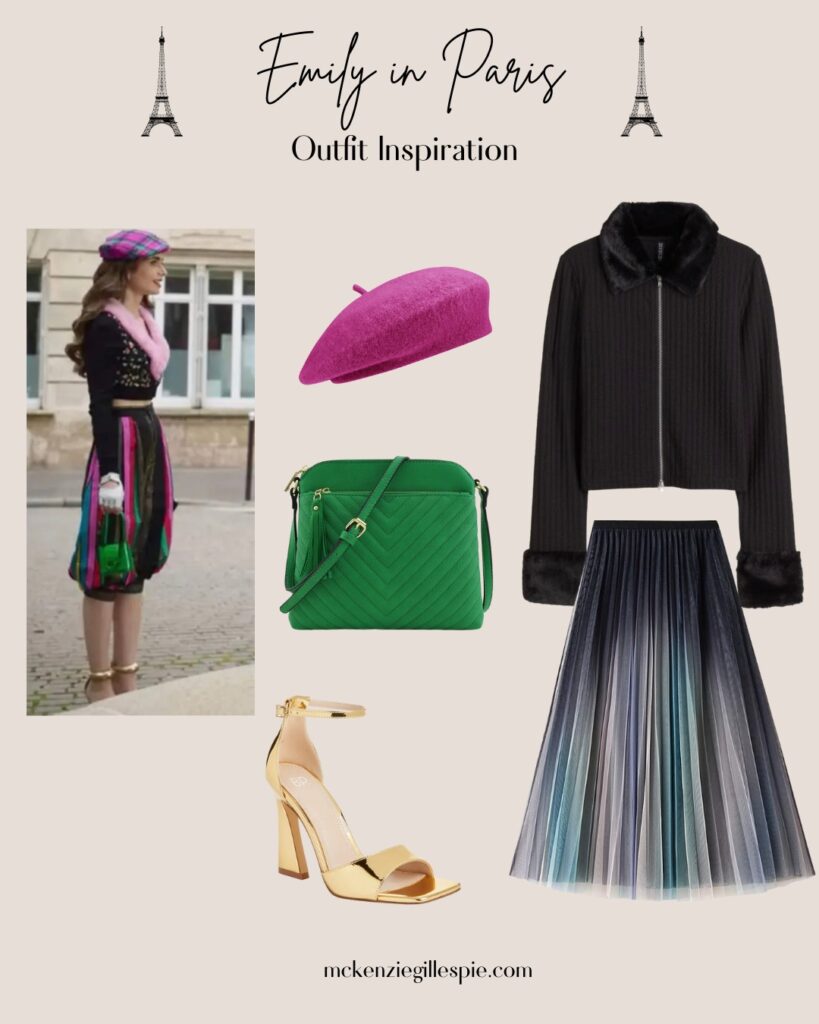 Emily In Paris Purple Dress
Pairing a statement ruffle tulle jacket over a mini dress, like Emily, can create a dramatic and eye-catching look. The tulle jacket adds volume and texture to the outfit, while the mini dress adds a touch of sexiness and balance. The combination of the two pieces can create a unique and playful look that is perfect for a special occasion or a night out.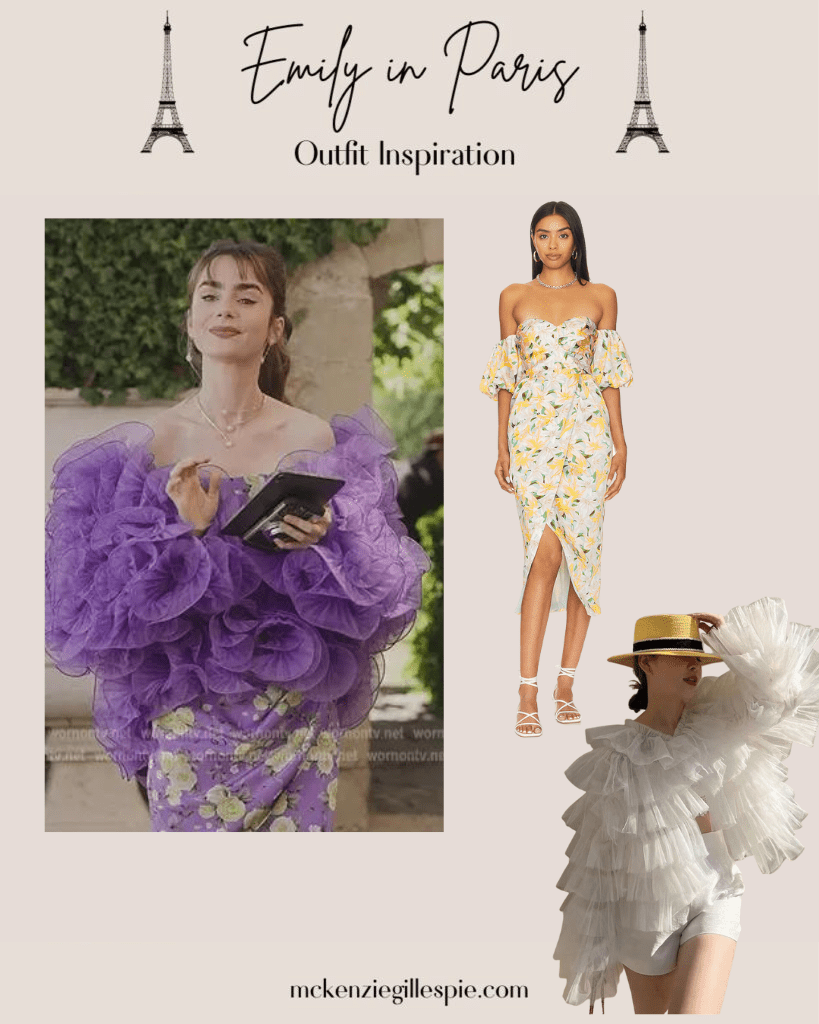 Emily In Paris Red Dress
Wearing a red tulle dress with your hair up and a gold heart necklace can create a stunning and elegant look, just like Emily's. The red tulle dress adds a touch of drama and femininity, while the hair updo highlights the neckline and adds sophistication. The gold heart necklace adds a touch of glamour and completes the overall look.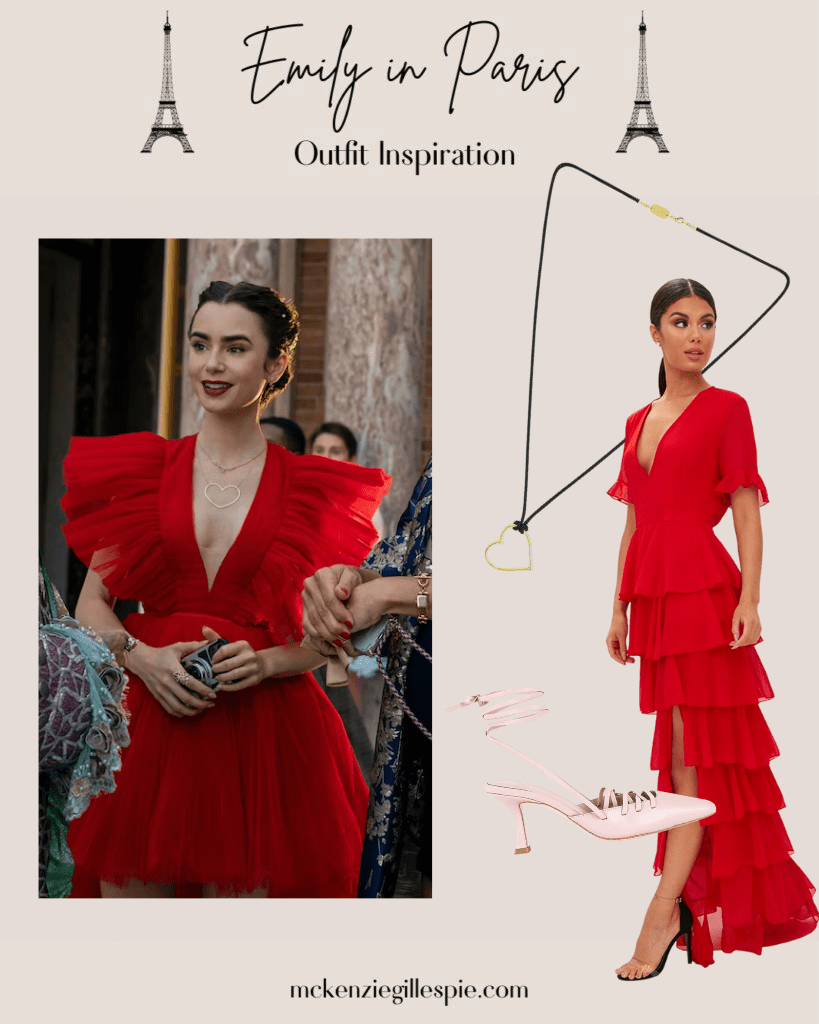 Emily In Paris Yellow Dress
Emily loves a bold and playful look, like this yellow and black printed outfit. Adding a belt to the dress can elevate the outfit and make it a little more casual. The belt can cinch the waist and create a flattering silhouette, while also breaking up the busy print and adding a touch of structure to the dress.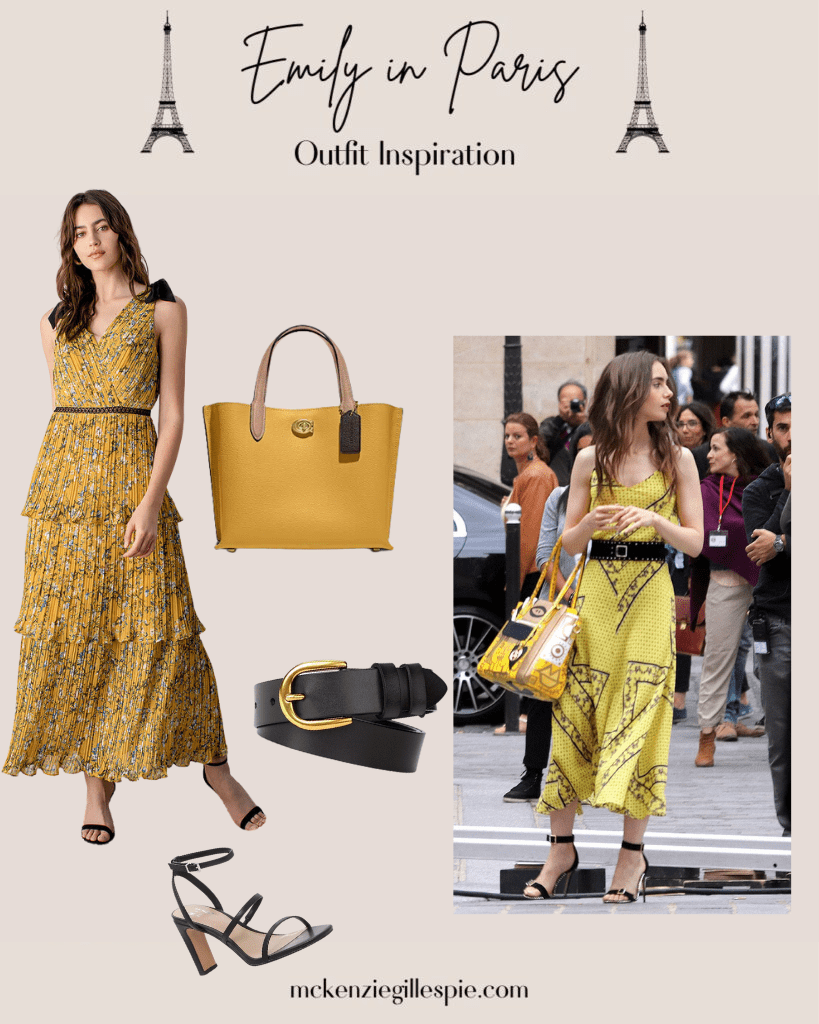 Tips For Creating "Emily In Paris" Looks On A Budget
If you're looking to recreate Emily Cooper's iconic style without breaking the bank, there are a few tips and tricks to keep in mind. First, don't be afraid to shop secondhand or vintage. Many of Emily's outfits feature classic pieces that can be found at thrift stores or online marketplaces. Second, focus on statement accessories like bold scarves, hats, and statement jewelry to add a touch of Parisian flair to your outfits. Third, keep an eye out for sales and discounts at your favorite stores. You may be surprised at how much you can save on pieces that capture Emily's signature style. Finally, don't be afraid to mix and match pieces from your existing wardrobe to create new looks. With a little creativity and some strategic shopping, you can channel Emily in Paris on a budget.
In conclusion, finding affordable ways to create Emily in Paris inspired looks is all about being creative and resourceful. Whether you're shopping secondhand, focusing on statement accessories, or taking advantage of sales and discounts, there are plenty of ways to capture Emily's iconic style without breaking the bank. The most important thing is to have fun with your fashion choices and express your own unique style. So go ahead and channel your inner Emily Cooper! And don't forget to take an Instagram picture of your outfits – you know Emily would!