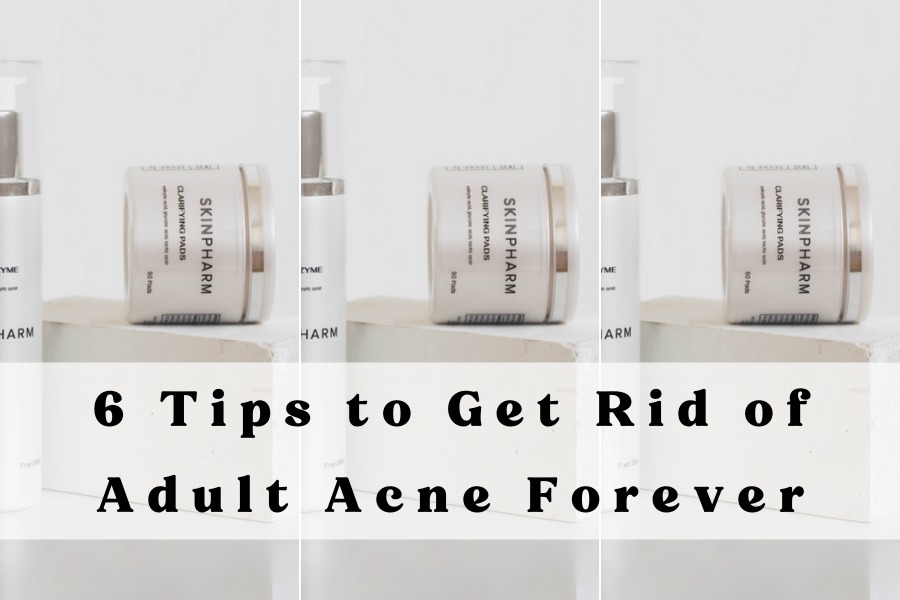 Let's face it… acne is the worst. That feeling when you are going to a special event in the cutest outfit you bought just for this occasion and couldn't wait to wear, hair on point, makeup done, and you should feel like a million bucks. But you don't… because all you can think about is your acne and how you would do anything to make it go away.
Isn't acne for teenagers? Why does everyone around me seem to have perfect, glowing skin while mine looks like the 3D map of the mountain ranges we used to study in elementary school? These are questions that used to ruminate in my head and I wondered if I'd ever know the right answer.  
I've been there. Adult acne sucks. You feel so helpless and after you have tried everything out there, read all the blogs, watched all the YouTube videos, you begin to feel hopeless. While adult acne is usually linked to hormones in females, there can also be other underlying health issues or triggers that you wouldn't think about.
While I am no dermatologist, I have spent hours reading about this stuff while trying to heal my own adult acne and have definitely learned a thing or two worth sharing.
If you find yourself here, you are probably searching for solutions to get rid of your blemishes and hope to once again have clear skin. I am about to tell you everything I did to get my skin to where it is today. (PS. You will be shocked at my last tip!)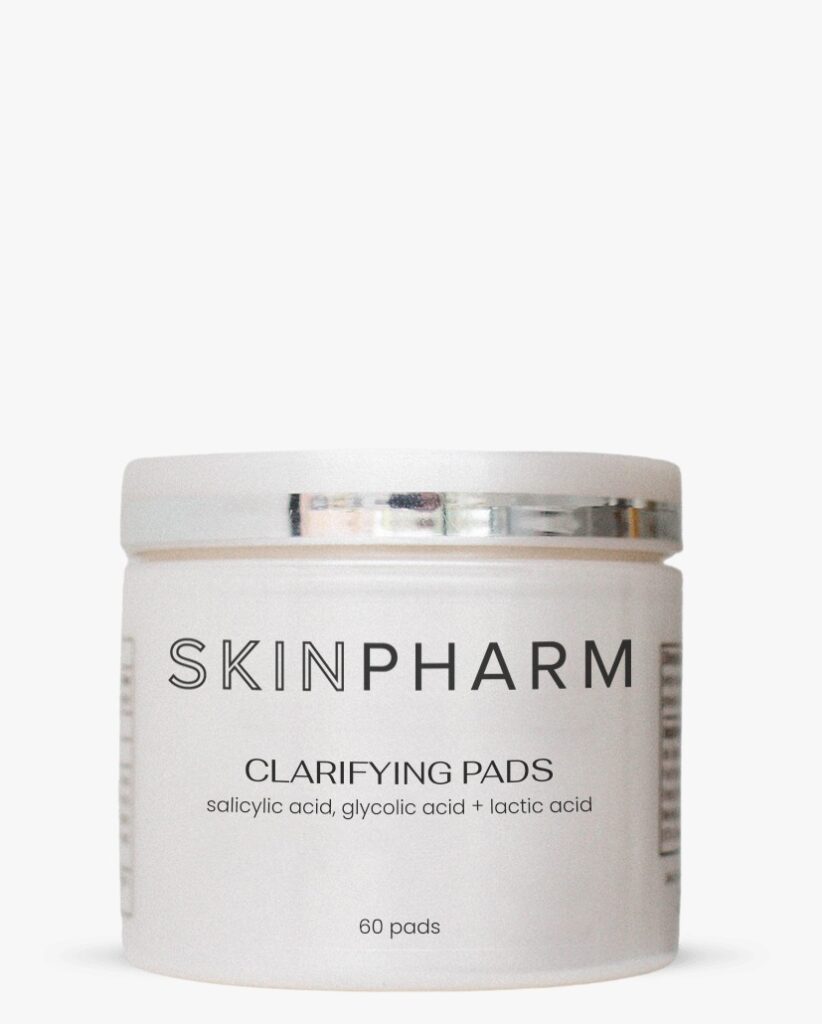 Good skincare
First things first, you need to make sure you are using the right products. While I am sure the very first thing you tried when your acne became a problem was changing up products, I would still advise you to examine what you are using and choose the right products for your skin.
When my acne started getting pretty bad, I scheduled a visit with my nurse practitioner, Clare, at Skin Pharm. I showed her everything I was using and let her give me some advice on what she would recommend for my blemished skin. We went through all of my products and she gave me her honest opinion on them all – keep some, replace some. I ended up buying Skin Pharm's Papaya face wash and Brightening Lotion per Clare's recommendations and they have absolutely changed my skin! My pores feel so clean and clog-free after using the Papaya face wash. It comes in a huge bottle, too, so it lasts me at least 6 months. The Brightening Lotion is the best thing since sliced bread. I'm not kidding…I've had multiple friends buy it and text me about how much it brightens their complexion!
My number one advice for skincare products is to go back to the basics. Stop using every single cream and spot treatment you see girls on Instagram using daily and take a step back. I have learned through my skincare journey that sometimes all of those products combined can actually be the problem. For instance, I was using the P80 toner on my skin that people just rave about. It has the best reviews and people who use it say it's their "holy grail", but for me, it was WAY too strong and made my skin go crazy.
Every single dermatologist I've ever talked to recommends the Cerave cleanser and moisturizer for products that you can guarantee will not cause a problem. I keep the Cerave cleanser in my shower and bring both of these when traveling so that I don't risk spilling or losing my more expensive ones. 
Start taking a good probiotic
One thing I learned in the past few years is how good gut health affects basically everything in your body. Healing your gut can heal your skin, and the first thing I recommend to heal your gut is a good probiotic. I have tried various pre and probiotics from the drugstore, but I have never had one that I could physically tell a difference until now. I researched different ones and decided to try the Seed probiotic after reading tons of reviews. I can 100% say it is worth the money and I can tell when I do not take it!
If you are reading this, then you know all too well the feeling of washing your face at night discovering a new breakout that has just come to the surface. My one ride-or-die product for this is Skin Pharm's clarifying pads! These pads full of salicylic acid, glycolic acid, and lactic acid dry out blemishes faster than anything I've ever used. They are always my go-to when trying to get rid of acne and make you skin GLOW!
Pro tip: Cut them in half! You get double the amount and half of a pad is more than sufficient per use.
Eat well and drink lots of water
I know I know, this is probably the last thing you want to hear. However, I truly believe it is the most important factor to having good skin. The phrase "you are what you eat" applies to the biggest organ in your body – your skin! Having a balanced diet, full of plenty of vegetables, is necessary for achieving that glow. Try and avoid foods that can be inflammatory, like dairy, soy, and processed foods, and see if that helps.
Your skin also needs lots of water! I can promise you I struggle with this more than you do, but it makes sense when you think about it. For supple, glowing skin, you have to have hydrated skin. Drinking lots of water during the day also helps flush out toxins that can have an adverse affect on your skin. While you probably see everyone out there talking about how you should drink a gallon a day, I think a more reasonable place to start is half your body weight in ounces. Once you work your way up to that, you will be motivated to drink even more because of all the energy you have!
I have never had luck with spot treatment for acne and decided I did not believe in them a long time ago. So, I wrote off Dapsone Gel and Azelaic Acid when I was given them by Clare at Skin Pharm. I could not have been more wrong about these, though! Skin Pharm's Dapsone Gel has 6% dapsone and 4% niacinamide. Their Azelaic Acid contains 15% azelaic acid and 4% niacinamide. Yes, these words are over my head too, but moral of the story is they WORK. Here is how my nurse practitioner, Clare, described them to me:
Dapsone Gel – Amazing for those hard, under the skin cycstic acne spots. Use morning and night and it prevents them from forming or stops them before they get bigger.
Azelaic Acid – Great for whiteheads and drying out normal pimples. Don't use the same nights you are using the clarifying pads, as it can be too strong.
These are both prescription creams, so you will need to go see a doctor to get them. I recommend making an appointment with a Skin Pharm location if you are near one of their offices or your normal dermatologist.
 Drink a lot of oat milk? You may want to reconsider
This is by far the strangest advice I got, but I now tell everyone who struggles with acne. The products and lifestyle changes I mentioned above got rid of almost all of my acne. I had stopped getting the cysts and rarely noticed new whiteheads but still had these little tiny bumps on my chin that almost looked like a rash.
I tried EVERYTHING to see what I was doing to cause this. I switched toothpaste, stopped taking certain medicines, quit using strong creams, and even started taking a hormone balancing supplement (I highly recommend this one if you know your acne is hormonal!). Nothing would help. It wasn't I was looking up something about oat milk and stumbled upon a Reddit post of girls talking about the correlation between oat milk and acne. So many girls and women were saying that oat milk had caused the worst acne and when they stopped drinking it, it cleared up almost immediately. Since I drank oat milk almost daily at this point, I knew I should give it a try. I also realized that I had just become obsessed with oat milk a year prior, which is almost exactly when I got off birth control and my acne journey began.
I stopped drinking oat milk and within 2 weeks my skin was completely clear. I didn't want to immediately assume I had found my cure, so I continued this for a few months making sure to always drink almond milk instead. I went through several periods without getting a pimple and that's when I started to believe that the girls from that Reddit post were onto something!
It has now been months and I have continued to have no problems with my skin. I have even tested my theory and drank oat milk lattes a few days in a row. Without fail, every time I notice those little bumps start to reappear (although nothing like before). Since discovering this, I have asked several nurses and health professionals and none of them can give me an answer as to why oat milk could cause acne. The Reddit users described the problem being with the oils found in oat milk that can mess with your hormones and clog pores. I have no idea how accurate that is, but I will keep the oat milk out of my life for now.
Conclusion:
I sincerely hope this post has helped you better understand your adult acne and made you realize you are not alone. So many females struggle with this and it can feel very discouraging thinking you may just have acne your whole life. But I promise you, there is a solution and I hope you now see a little light at the end of the tunnel.
Let me know if you have any similar experiences or other advice in the comments below!
Xo, McKenzie