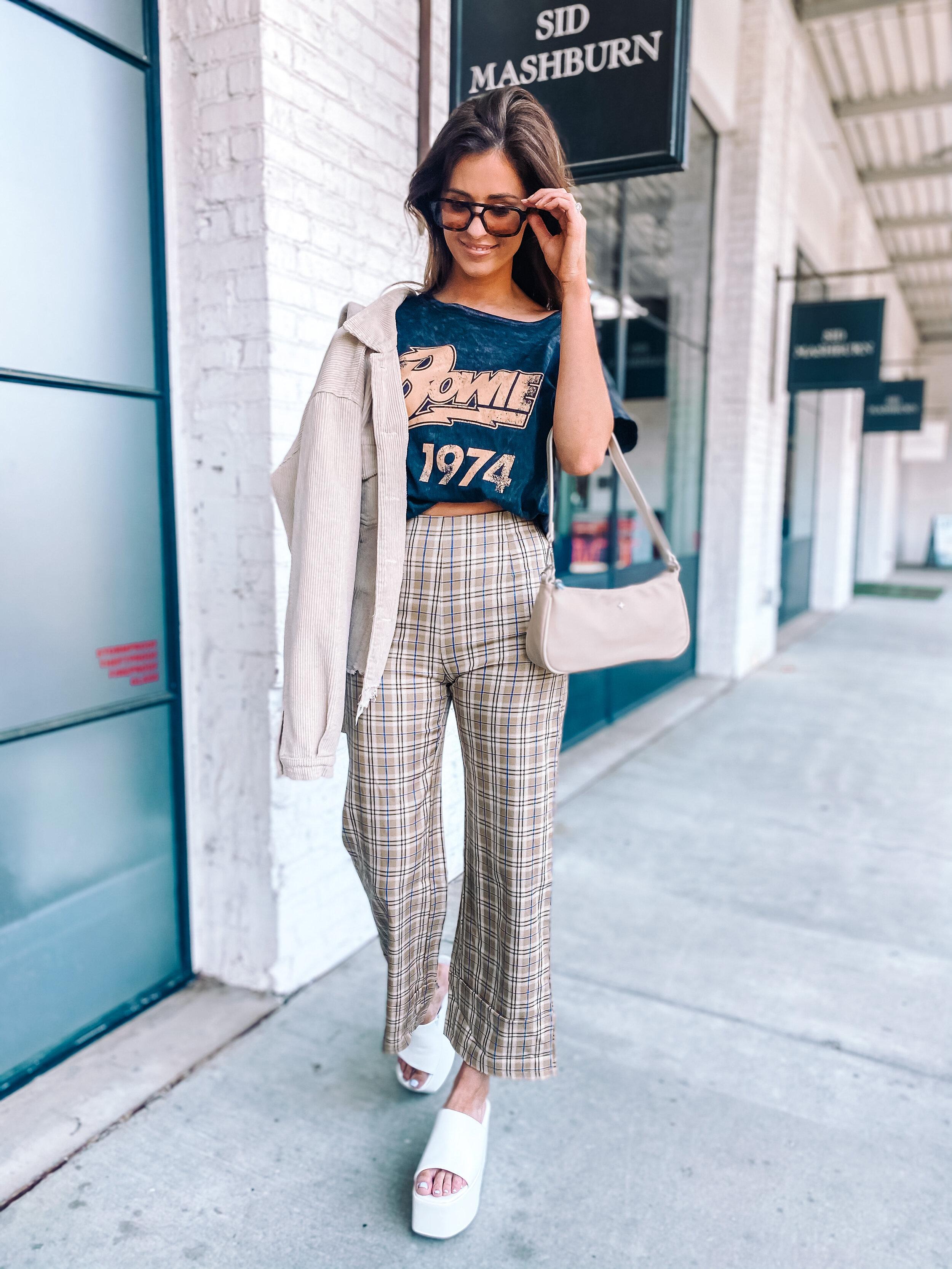 Today I'm sharing 10 ways to style a graphic tee.
Everyone has different ideas of what staples should be in your closet; a LBD, neutral bodysuit, the perfect distressed denim — but mine? A good graphic tee!
Graphic tees are one trend that I'm LOVING and am so glad is here to stay! Often when you think of a tee something casual comes to mind. While you can dress it down for a casual look, there are plenty of ways to dress up this piece! Here I'll show you 10 ways to style a graphic tee. Let me know how you'd style your graphic tee and which one of these outfit ideas is your favorite in the comments!
10 Ways to Style a Graphic Tee
1. Tied up with Denim Shorts
First up is my go-to: A graphic tee tied with denim shorts and some boots or sneakers! If you've been following me for awhile, you know I enjoy dressing up but there's nothing more that I love than staying comfy and casual.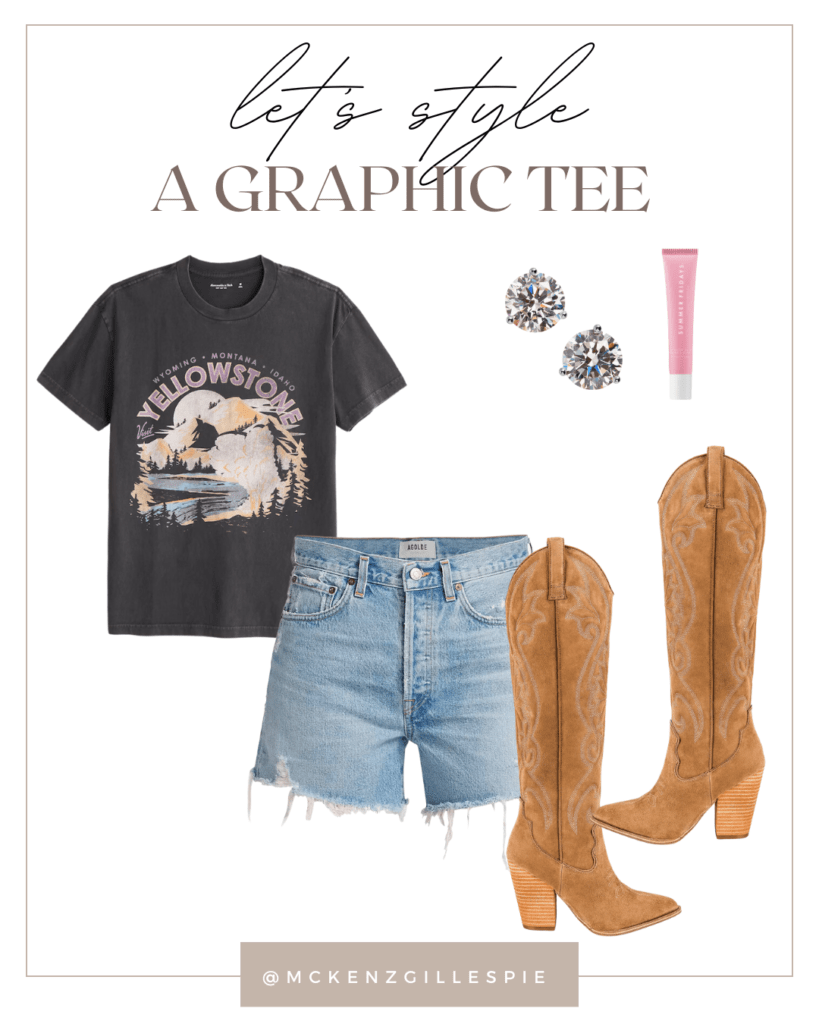 SHOP THE POST

2. Tucked into a Denim Skirt
Next up is a graphic tee tucked into a cute, denim skirt! This is an easy way to take your outfit from casual to a more styled look. This is definitely my typical weekend outfit spent hanging with the girls or on a fun day date with Gil and Kobe.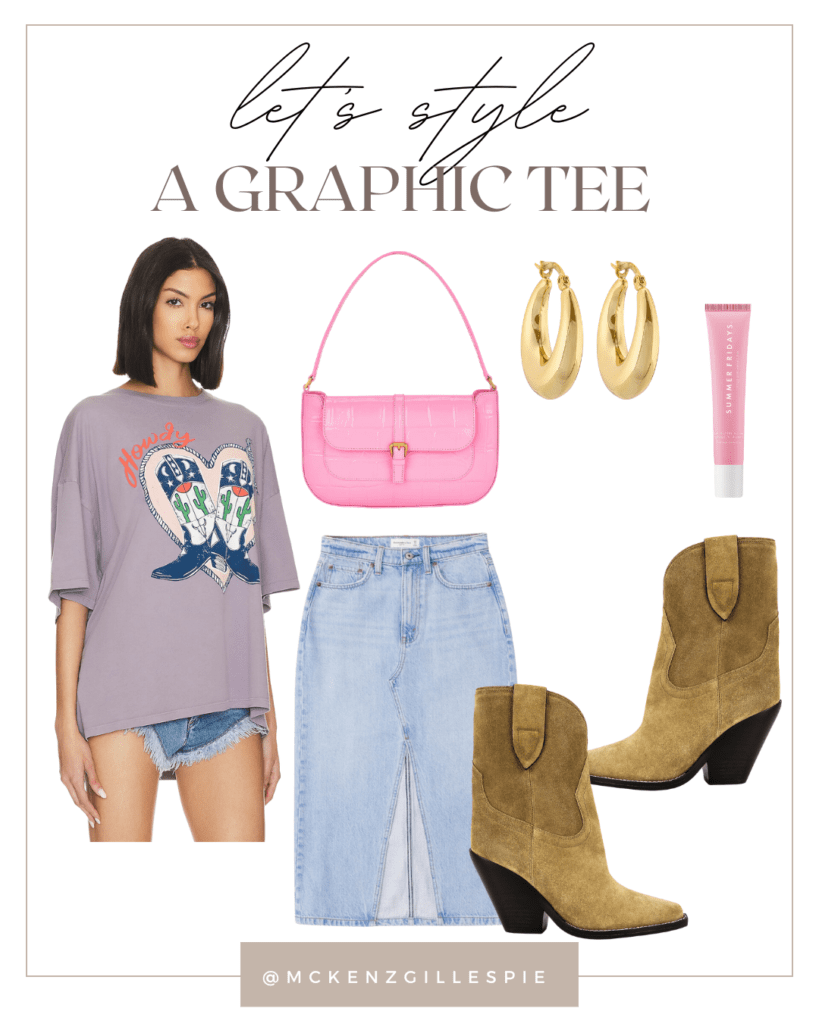 SHOP THE POST

3. With Biker Shorts
If you're looking for a unique and edgy fashion statement, pairing your favortie graphic tee with biker shorts is the perfect combination. Not only is it comfortable, but it also shows off your personality through the design of your tee. Biker shorts not only add an extra layer of cool, but they also give you the ability to move around freely without any restrictions. Whether you're running errands, going out for a walk, or just lounging at home, this outfit has got you covered.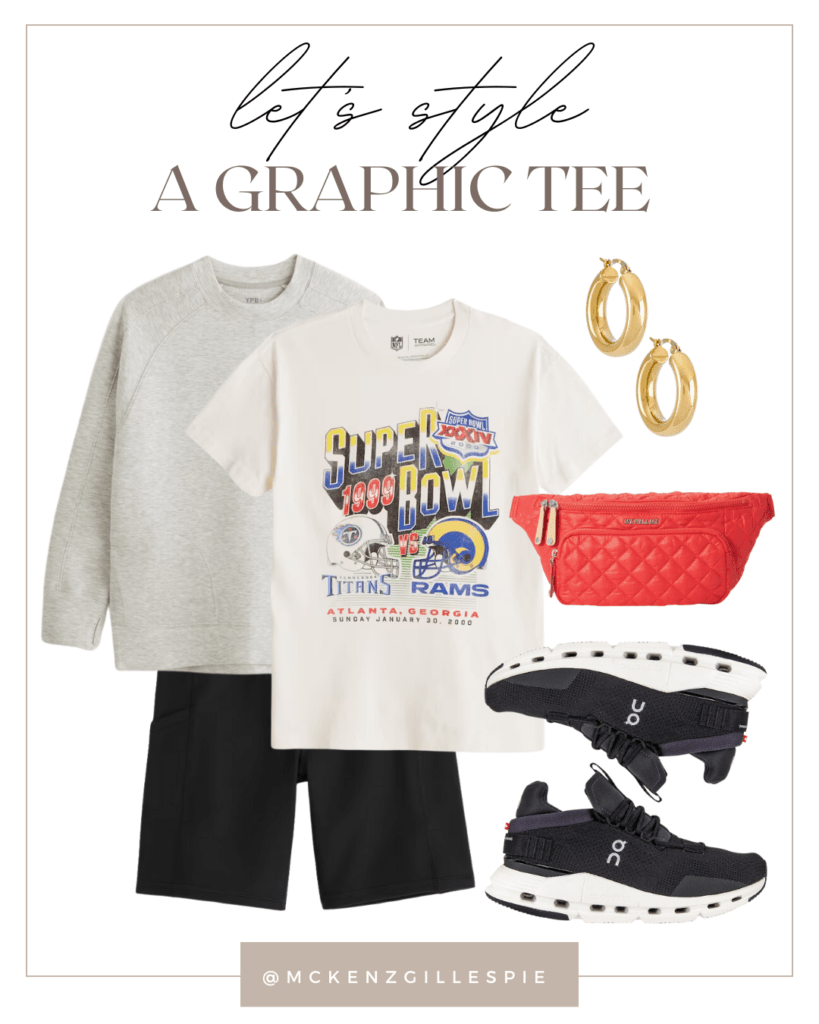 SHOP THE POST

4. With a Leather Jacket
If you're looking to add some edge to your wardrobe, there's no better way to do it than by pairing a graphic tee with a leather jacket. This combination of casual and cool will have you feeling like a rockstar in no time. But, how do you style a graphic tee without looking like you're trying too hard? Start with a simple design and let the jacket do the talking. Choose a color that complements the graphic and adds depth to your outfit. Go for a slim-fit tee and a well-fitted jacket to balance the proportions. And finally, accessorize with a pair of statement earrings or a bold necklace to complete the look. This would be the perfect casual summer outfit.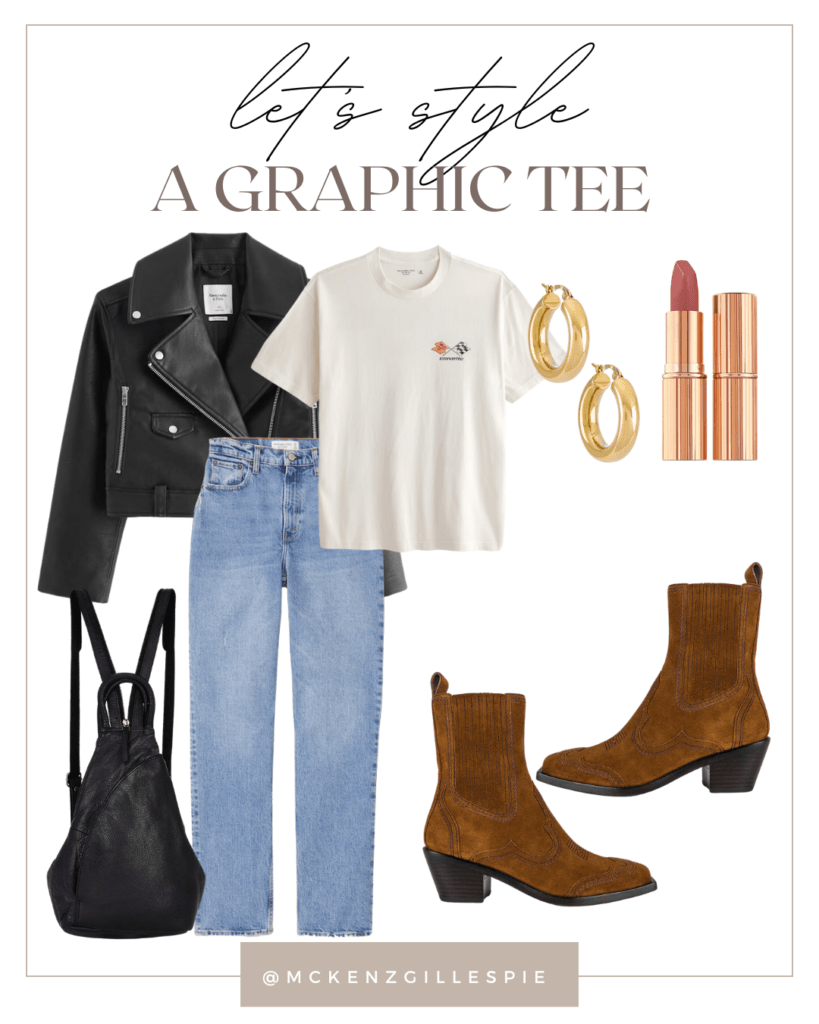 SHOP THE POST

5. Tailored Wide Leg Pants
By mixing and matching a casual top with more formal pieces, you create a chic juxtaposition that exudes street style sophistication. Choose a graphic t shirt with a bold print or quirky slogan to keep things fun and interesting. Opting for tailored pants that fit you like a glove will create balance in the silhouette while elongating your legs. Lastly, elevate the look with some heels to polish off the whole ensemble. Whether you're headed to brunch with the girls or a night out for drinks, this outfit allows you to feel chic and comfortable, while turning heads.
SHOP THE POST

6. Leather Skirt and Booties
If you're looking for a comfortable yet stylish outfit, consider pairing a graphic tee with a leather skirt and booties. The combination of a casual tee and a chic leather skirt adds a unique touch to your wardrobe. It's also a great way to showcase your personal style. Top the look off with some stylish booties, and you're ready to take on the day! This outfit is perfect for any occasion, whether you're running errands or going out for a night on the town. It would be great to add to your spring capsule wardrobe, too! Don't be afraid to mix and match your wardrobe to create the ultimate fashion-forward look.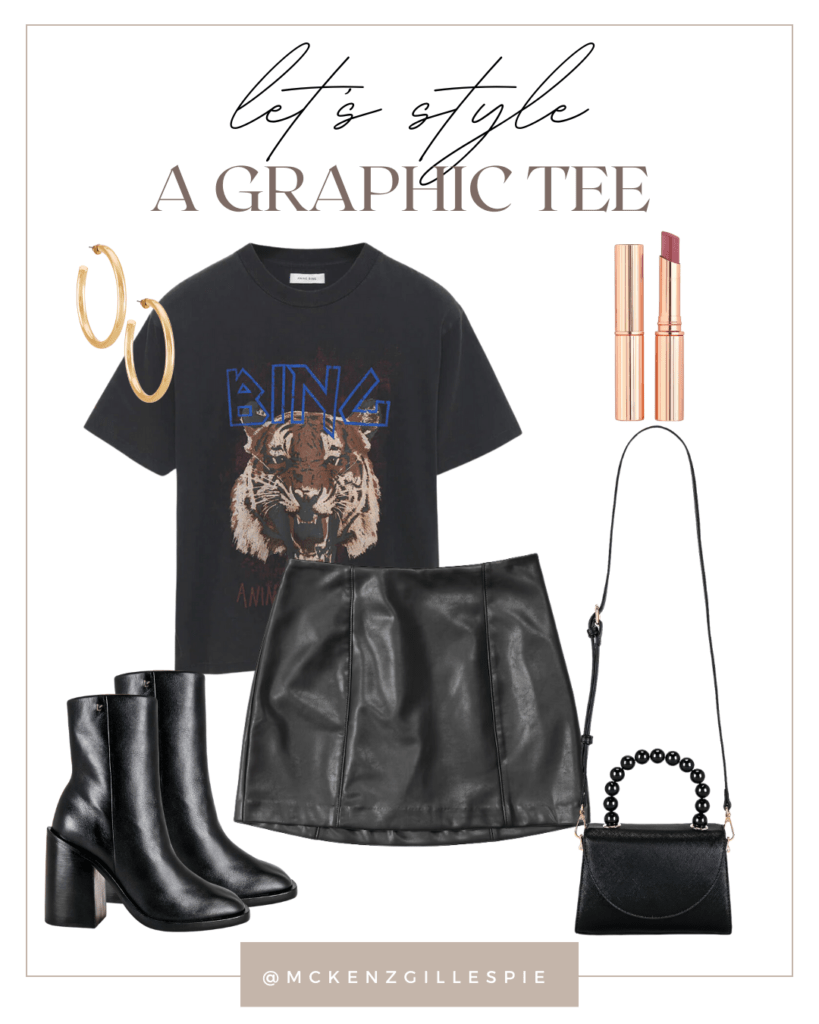 SHOP THE POST

7. Jeans and Birkenstocks
One foolproof combination is pairing a graphic tee with jeans and Birkenstocks. This look provides comfort and style all in one. When wearing a graphic tee, let it do the talking and keep the rest of the outfit simple. A pair of classic blue jeans and Birkenstocks allows the tee to remain the focal point. Add some accessories if desired, such as a statement necklace or an oversized blazer, but don't go overboard. This effortless outfit is perfect for everyday wear and can easily be dressed up or down with the right jewelry or jacket.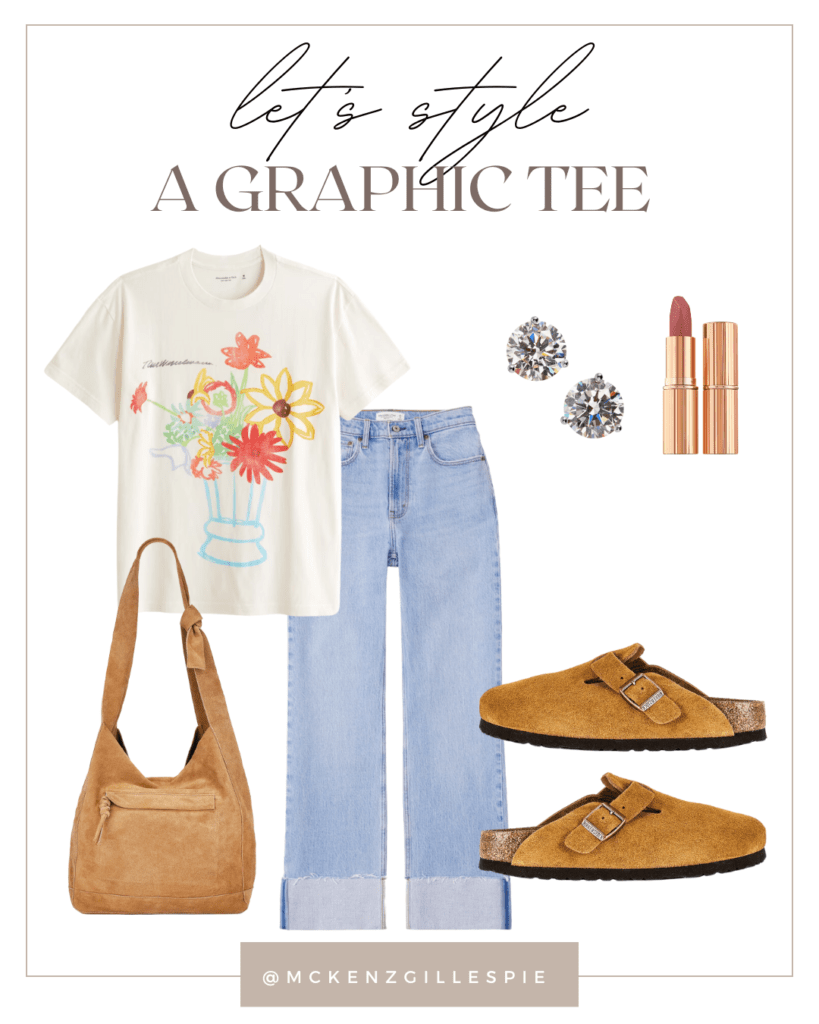 SHOP THE POST

8. Leather Pants
If you're looking for an edgier and more daring look, consider pairing your graphic tee with leather pants. The contrast between the casualness of the tee and the sleekness of the pants creates an effortlessly cool outfit. Add a pair of sandals and minimal accessories for a daytime look, or swap them out for a statement shoe and bold jewelry for the evening. The options are endless when it comes to how to style a graphic tee, but there's something about pairing one with leather pants that screams confidence and effortless style.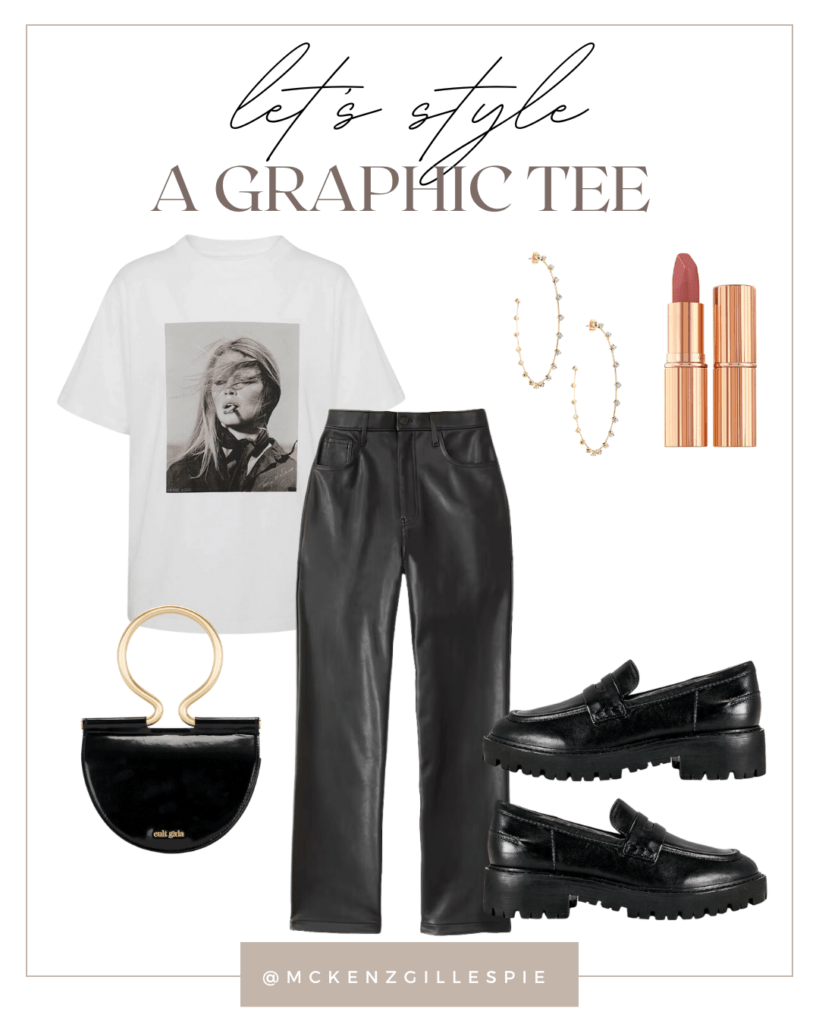 SHOP THE POST

9. Cargo Pants and Sneakers
Pairing a graphic tee with cargo pants and sneakers is a classic look that's both comfortable and fashionable. The relaxed fit of cargo pants gives your outfit a laid-back vibe, while the graphic tee adds a pop of personality. Sneakers are the perfect finishing touch, keeping things casual but still stylish.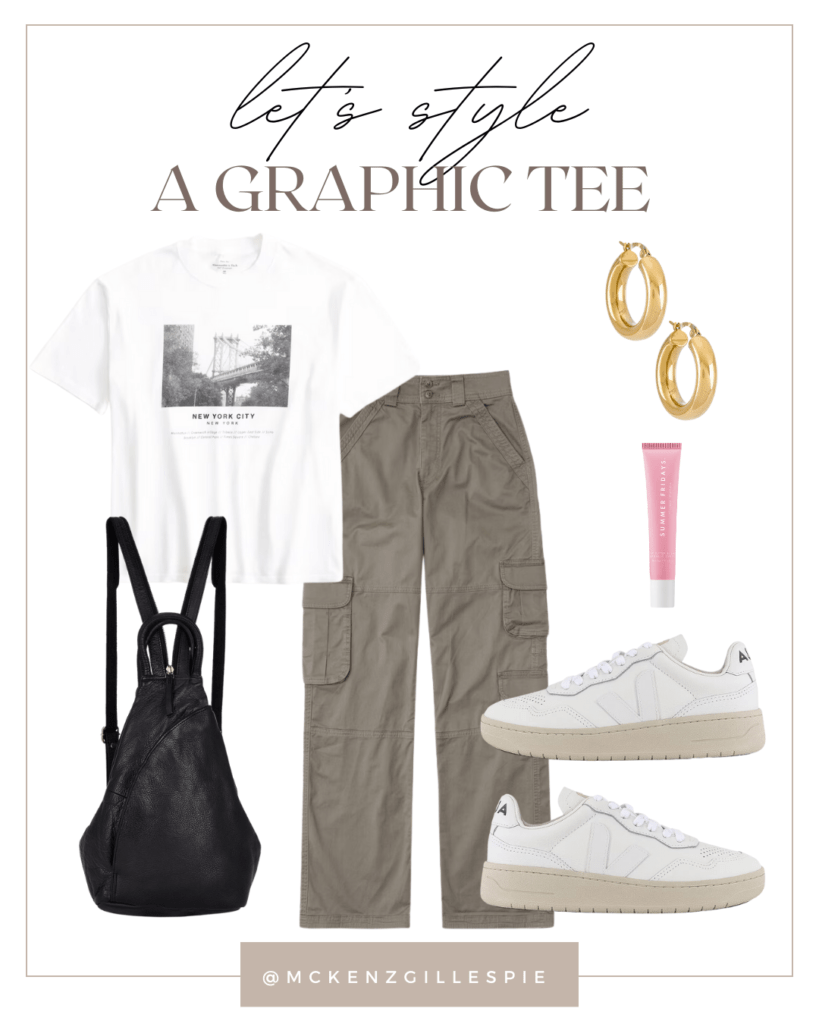 SHOP THE POST

10. Graphic Sweatshirt
When the temperature starts to dip, it can be challenging to dress comfortably without sacrificing style. Luckily, there is one fall outfit combination that is effortlessly chic and cozy: a graphic sweatshirt and denim shorts. Not only does this pairing offer a hint of edge and personality, but it's perfect for transitioning between hot and cool weather.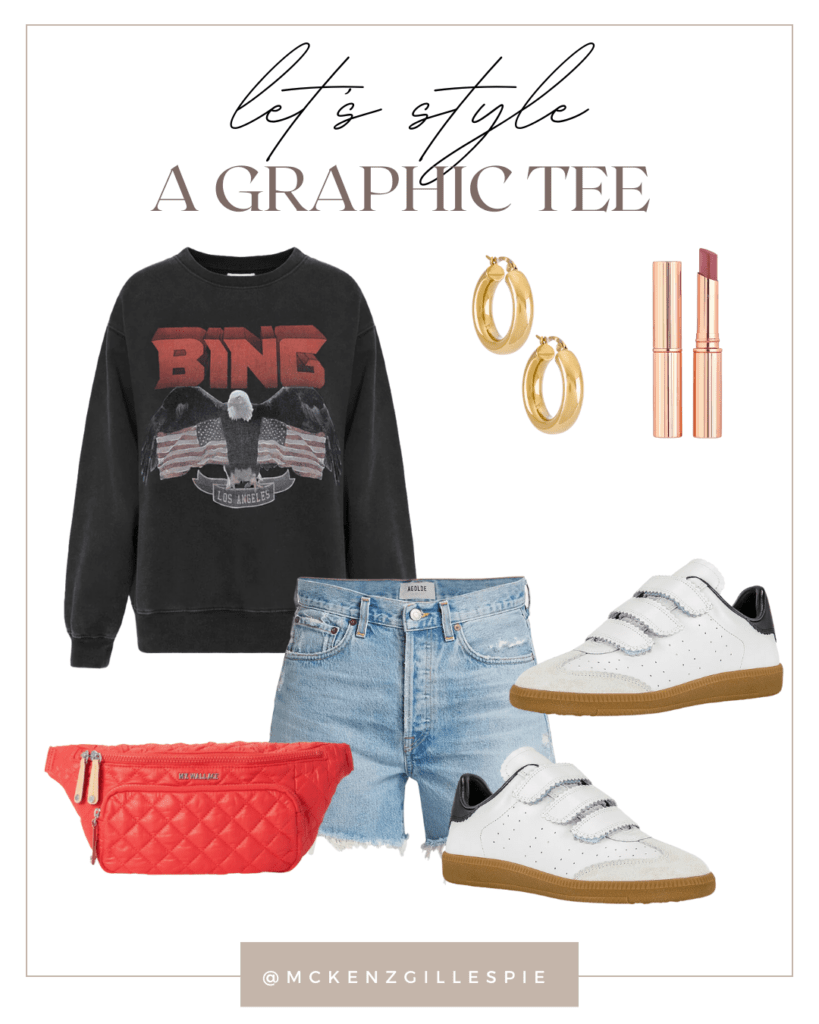 SHOP THE POST

Well, there ya have it! I may be biased, but there are truly endless possibilities with ways to style a graphic tee. It's hard to keep myself from buying more knowing that there are so many ways to wear them! So tell me, which style is your favorite? Tag me in your story or post to show me how you like to wear yours!
For more outfit styling ideas with items you already have in your closet, check out these two blog posts: