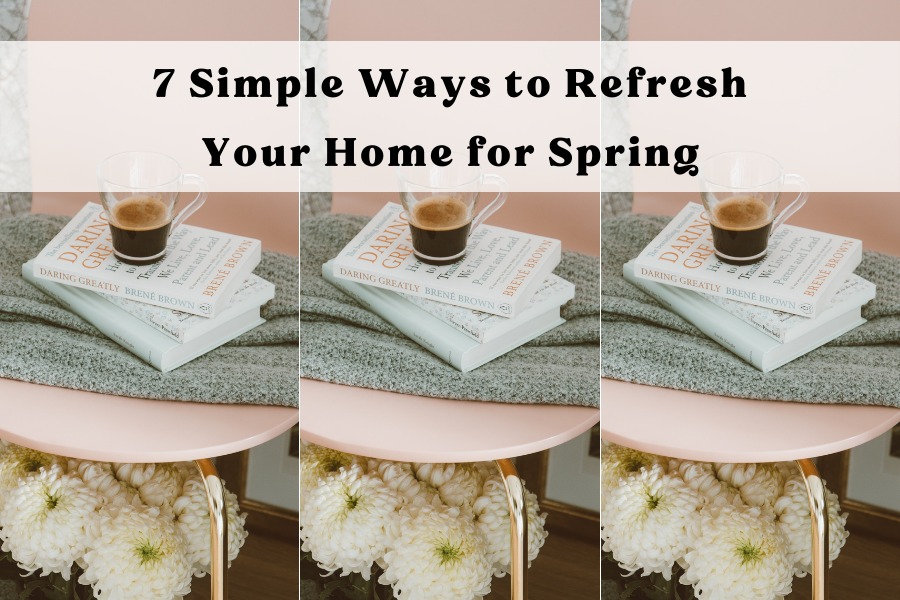 After the holidays and the start of the year, you are probably ready for a home refresh. If you are ready to get a start on spring, switching up your home decor is an easy way to make your space feel new. Here are seven simple ways to refresh your home decor for spring.
Add green plants and switch out florals
Bring the outdoors in by refreshing your plants and florals. Greenery makes great decor and helps freshen up the air in your home.
If you don't have a green thumb there are so many great looking fake plants and flower arrangements. Alternatively, treat yourself to fresh flowers every week or two. They will brighten up your home, and typically you can find inexpensive bouquets at your local grocery store.
Swap your throw pillows for lighter tones
Throw pillows are an easy way to switch up your decor and help your space feel lighter. You can even opt for throw pillow covers which are easy to store if you like to change your decor every season.
Keep in mind texture when it comes to your pillows. Sweater like knits and velvet are much heavier and feel much more winter appropriate.
Light blue and green throw pillows will help your place feel brighter, but work with so many colors so they are almost like a neutral. If you only want true neutrals, go with lighter shades like ivory and cream, and pick a lighter texture like a linen pillow cover.
When was the last time you switched up your artwork? This can be as simple as moving pieces from one room to another, or investing in some new pieces. Art can be a great way to add a pop of color to your space, but you can also go with a piece that is neutral and more subtle.
Botanical prints are very in right now and go with a lot of decor styles. This is a great way to showcase spring florals in an unexpected way. Add one print to a gallery wall, or group several botanical prints together.
Change your home fragrances
Something that you may not always think about is how fragrance affects the feel of your home. If you are still burning Christmas candles it's time to switch it up. Scents like lemon, gardenia, or fresh linens will energize you and will feel more spring appropriate.
Sprinkle in bright colors
Adding in brighter shades doesn't have to be overwhelming. Add some smaller decor items like a colorful vase or throw pillows. Coffee table books are another way to add some color. There are coffee table books on practically every subject so you are sure to find one that suits you. Grab one that suits your interests with a fun colored cover to brighten your space.
Replace your heavy bedding with lighter materials
Replace your heavy bedding with lightweight linens
It's time to switch out your flannel sheets for lighter options. Look for a nice cotton or linen options. Crisp white sheets give a hotel feel, while a subtle pattern in spring colors adds some interest to your bed.
Declutter and organize your spaces
It's time for spring cleaning, and you will not believe the difference decluttering and organizing can make. The best part? It's free! Set aside sometime one day and tackle your space. Remove obvious unnecessary items like trash or broken items. Then sort your items into those you will keep and those you will donate or sell.
If you are having trouble parting with your stuff, have a bag or box as a waiting area. Set it aside for a month or so and if you don't miss anything you know it's safe to get rid of!
Spring is the perfect time to switch up your space. If you follow these easy tips your home will start to feel lighter and refreshed in no time!