I'm so excited to share my home office makeover with you all! When I started looking into what I wanted my office to look like on the inside, I knew I needed some help making my vision come to life.
Macy Carlisle, an interior designer who owns The Mill (cutest home & clothing store!) in my hometown of Columbus, MS has worked with my parents over the years and I always loved her work. Anytime I would walk in her store, I would immediately want everything and say "this is what I want my house to look like!"
Macy and I decided to work together on this project and to say she was a total lifesaver is an understatement.
How It Worked:
Since it can be hard to describe different interior design styles and home accents, I started gathering pictures of home inspo that felt the most "me."
It can be so easy to see many beautiful offices and want to recreate that in your home. Whether it is a fully glam office or a boho office, if you're anything like me you can be drawn to several different home styles and get confused!
I found myself getting frustrated and almost just asked Macy to come up with something she liked (since I know I love her taste). However, I knew I would regret not staying true to myself and the style that really "lights me up" when looking at it. So, I  created a moodboard of the vibe I was going for and sent it to her.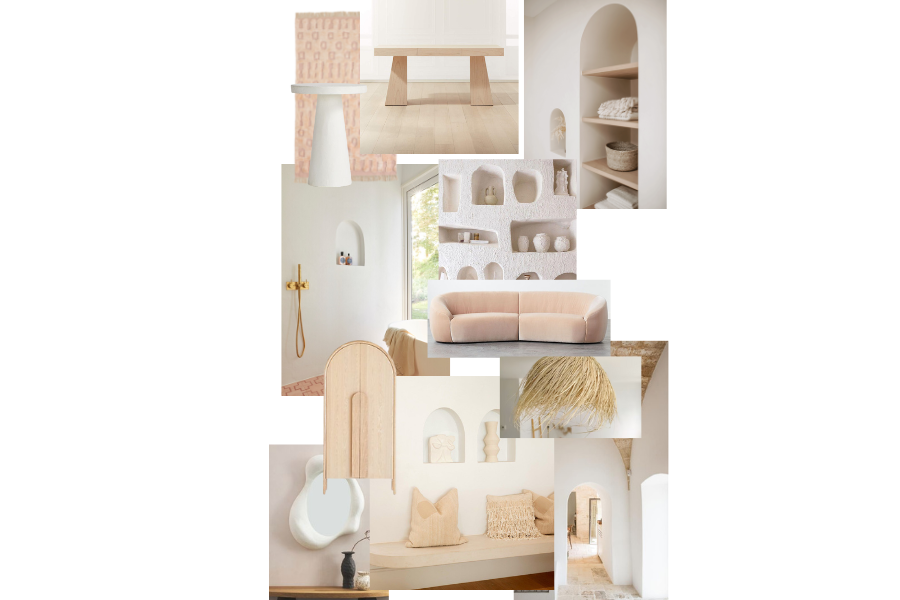 As you can see, I was going for a west coast feel with lots of organic texture and colors.
Along with the moodboard, I also sent all of the layout specs of the exact office being built and my needs to take into consideration for the office.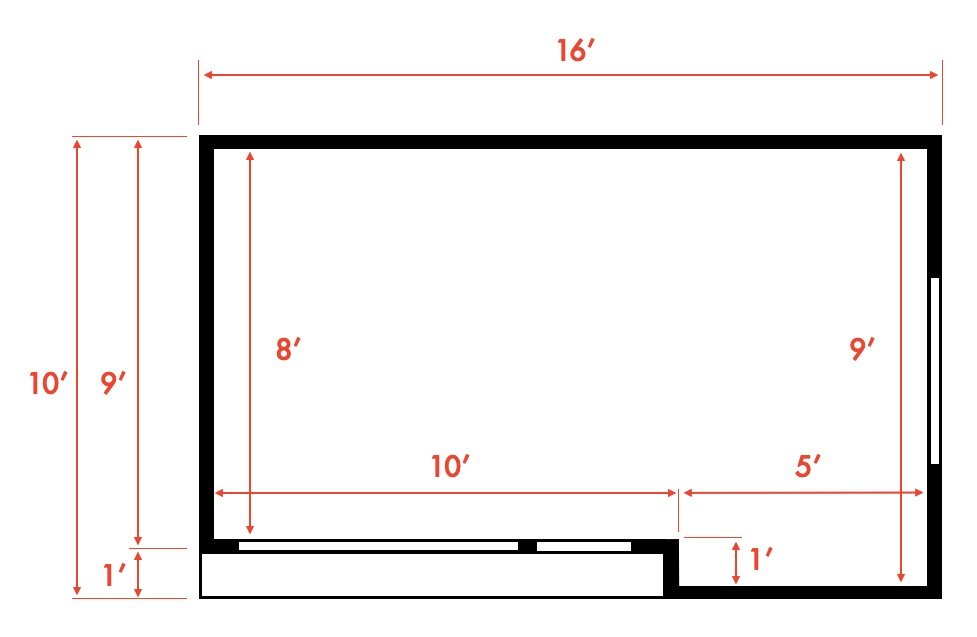 My Office Needs
Here is a little bit about what I do if you are new here or if you (like many) don't fully understand.
My main (full-time, if you will) job is being a content creator. I have built up a small platform over the years posting content and sharing my life, so I continuously create content about my travels, fashion finds, and different things going on in my life as well as creating UGC (user-generated content) for brands.
Whether I am in the videos I am creating or not, I needed a clean space with good lighting where I can film content, store all the necessary props, and sit and edit the video footage.
I also have a jewelry brand, Carlyle Collection, that is a side job and creative outlet for me. It is based online but I store all of my inventory and displays for pop-ups at home, so I was desperate for storage space. And I know my husband was tired of me taking over our kitchen table 24/7 as my jewelry workstation!
I thought through my daily workflows and made a list of what I had to have in my home office space.
Must-Haves in My Office:
Desk space to sit and work
Large full length mirror
Very light and happy with tons of natural light (crazy how much my mood depends on this)
Clothing rack to hang clothes
Storage space for my small jewelry business & content creation tools
Clutter-free to stay focused
The Inspo




When dreaming of an inspiring office I would work in, I knew I wanted it to reflect my personality.
I've always been inspired by the aesthetics of California – light colors, desert plants, and organic materials like jute, rattan, and wood. The casualness of coastal towns has always resonated with me, so my dream was to create my own little bungalow in my backyard where I'll be spending all of my time during the week.
Biggest Challenge
One of the biggest challenges I faced when designing the interior of my mini office space was finding enough storage that would help keep everything organized and free from clutter. I needed somewhere to store all of the displays, parts, and shipping supplies for my jewelry business, as well as a clothing rack and space to store items for my content creation business.
In the end, I was able to find a few key pieces of furniture that met all of my needs and helped keep my space both stylish and organized. I love coming into my office now knowing that everything has a place and that I can easily find what I need, whether it's jewelry that needs to be shipped out or an outfit I need to create content in.
Favorite Elements



My favorite elements of my office are the modern shapes and color palette. I love the play on arches in the room, like my arched full length mirror, arched clothed rack, and shelf.
I also love the color palette we went with – mix of bright white, beige, dusty pink, browns, and peach. The colors are soft and calming, but also make the space feel bright and airy.
Best Advice
Work with an interior designer! It will save you SO much time and money if you do it right. Be upfront about your budget and goals with the project.
I would have spent months trying to place all the little pieces I had found together in a layout that "flowed" and made sense with the space, whereas an interior designer is an expert in that area.
The Final Result
I'm so thrilled with how the space turned out! Macy did an amazing job of finding pieces that brought my vision to life.
Here's a look at the final space: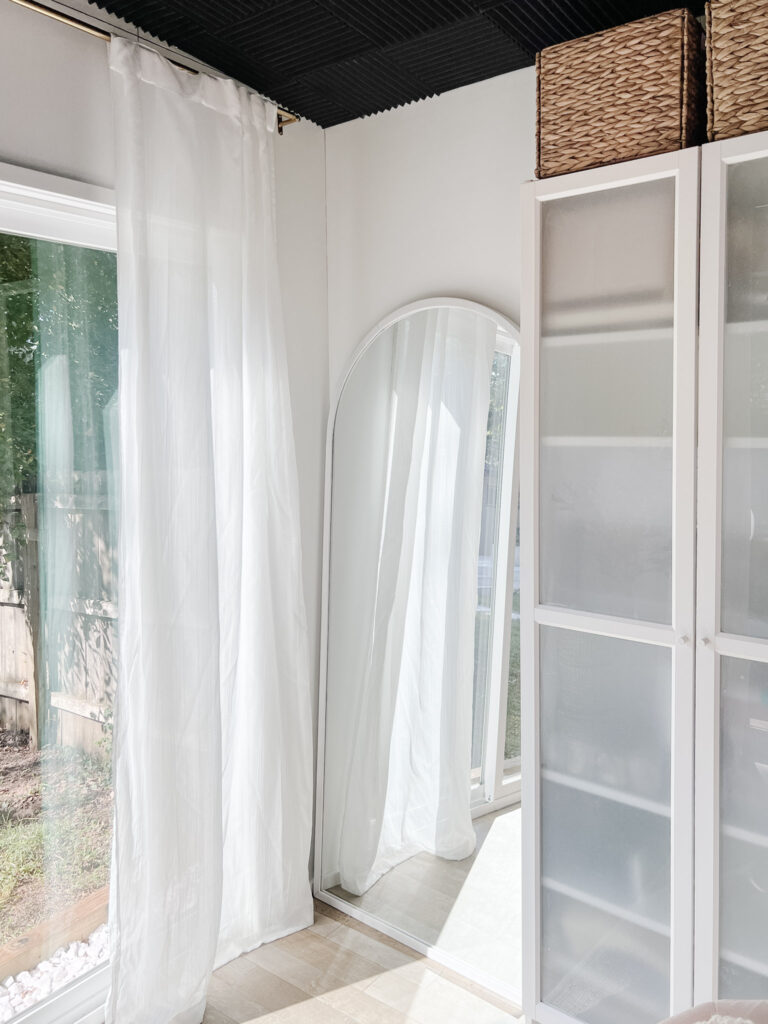 I found this large white arched mirror and fell in love, so Macy helped me find a way to fit it in the space.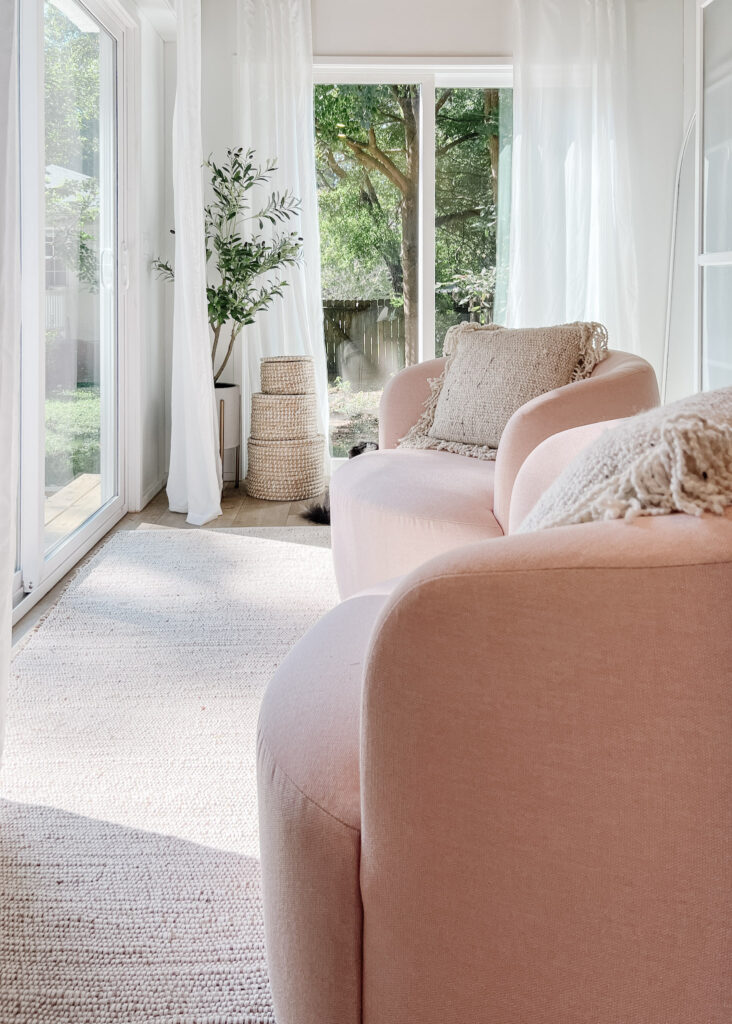 It was love at first sight with these two pink chairs! They make the space so cozy.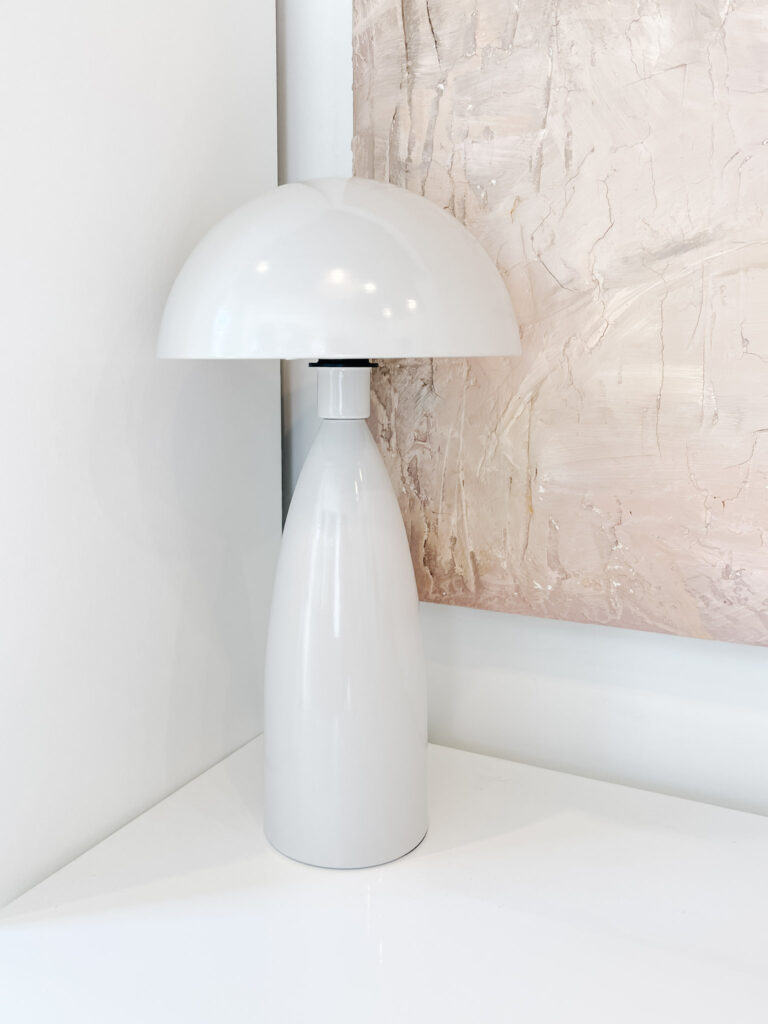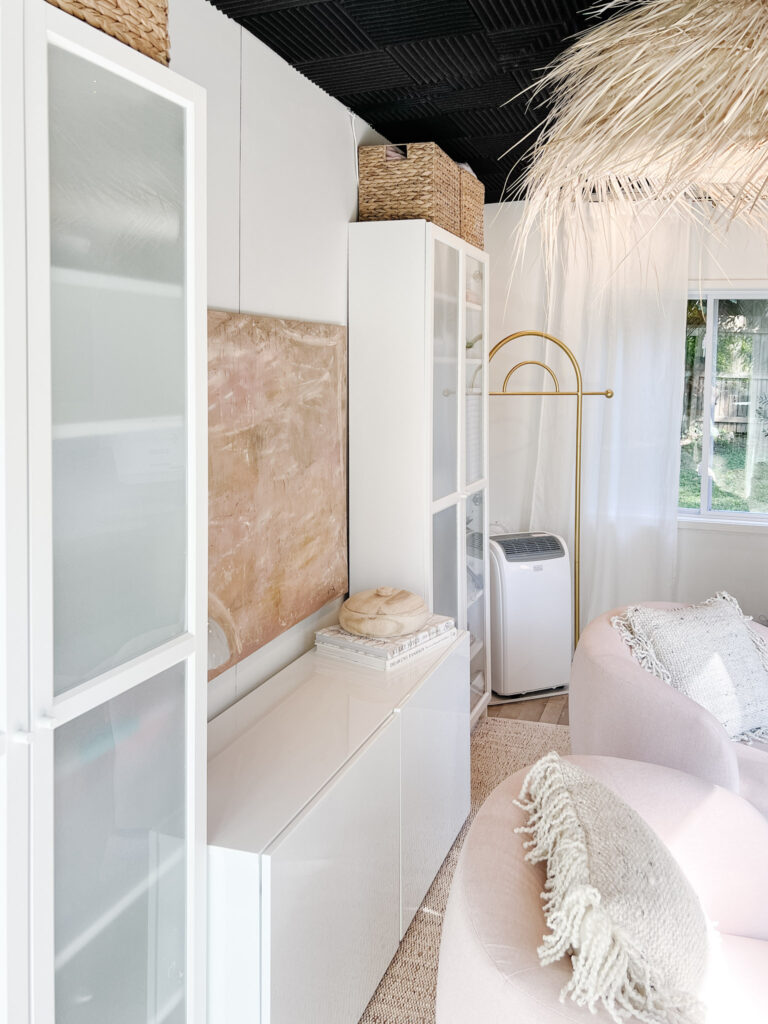 We knew we needed a lot of storage, so I was grateful Macy was able to find the look I wanted within my budget. We used two of the Ikea Billy Bookcases and used this Amazon hack to make the windows appear frosted for a neater look.
This gold clothing rack looks super expensive but is a great price. It was the best compliment to the other modern shapes in the office!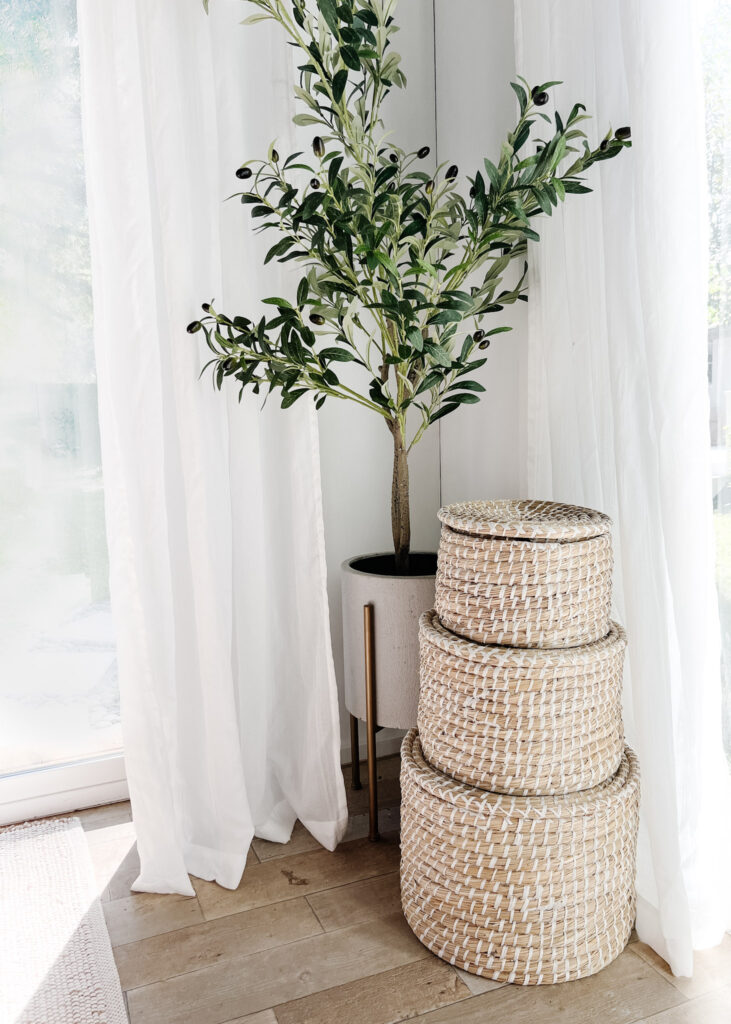 These woven seagrass baskets provide great extra storage and add texture to the room.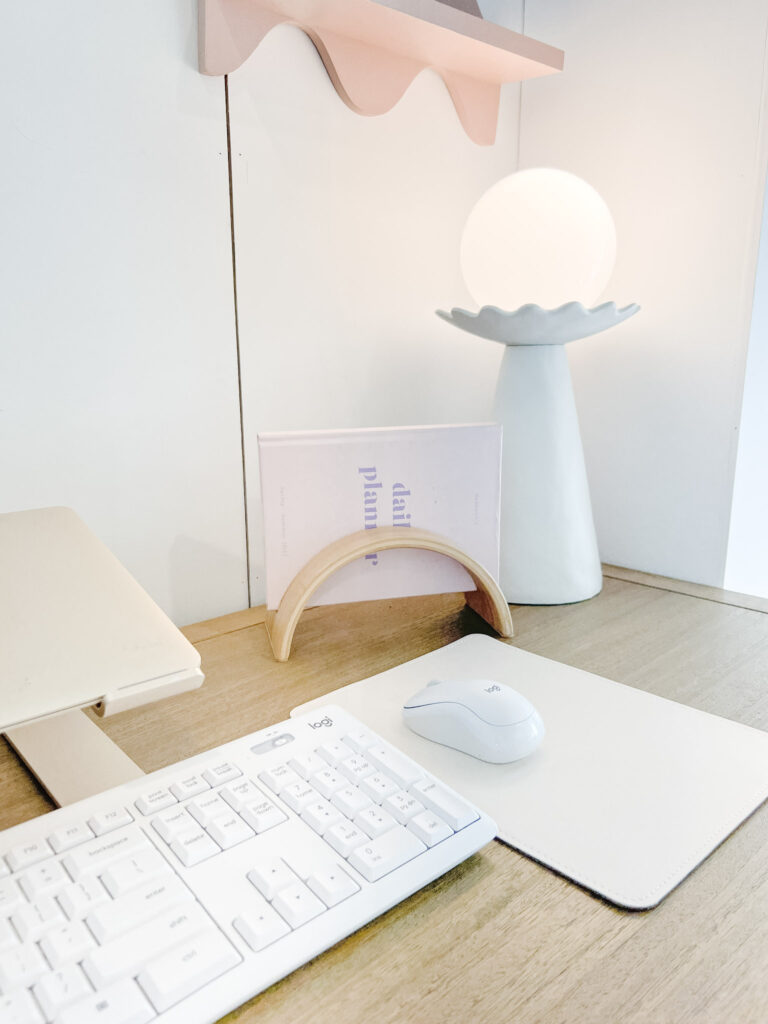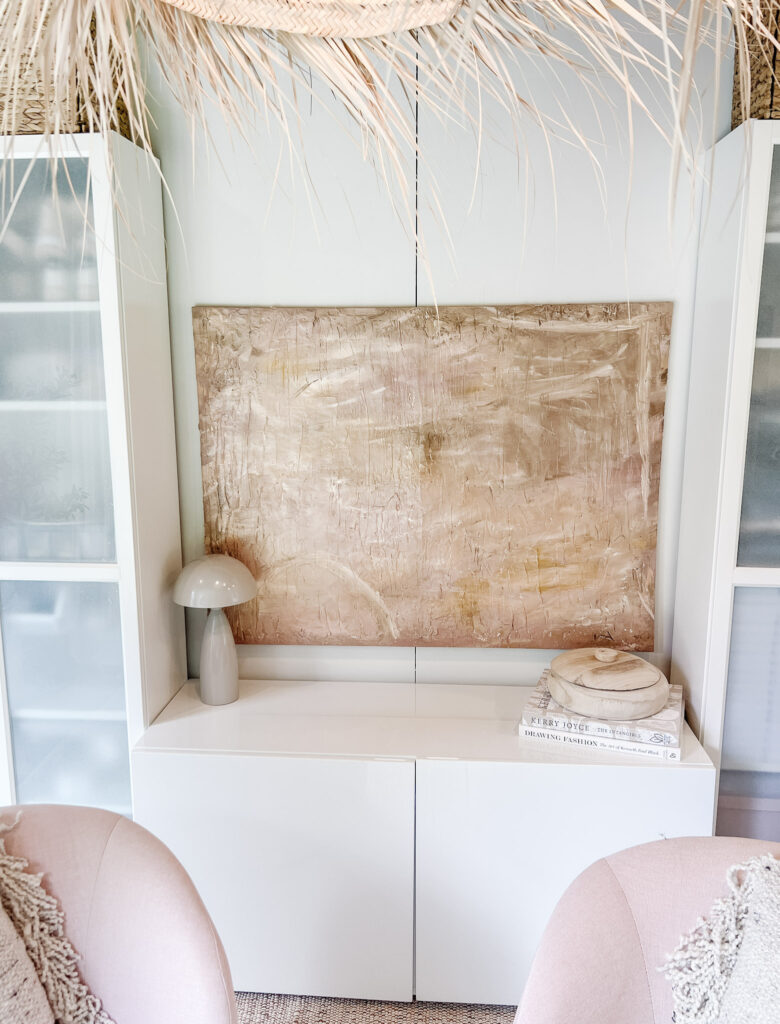 To match the two bookcases, Macy found this white credenza. I love how the gloss finish on it elevates the room.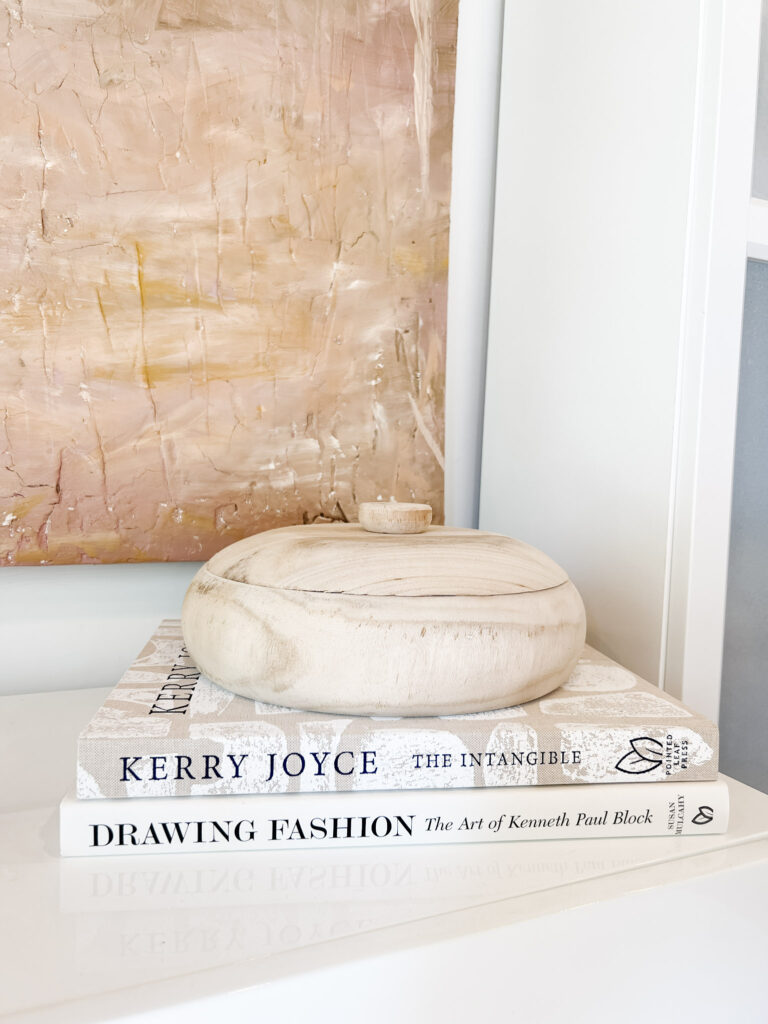 This wooden bowl makes a statement on any counter top. It looks great paired with coffee table books that match the room!
Books: Kerry Joyce The Intangible, Drawing Fashion: The Art of Kenneth Paul Block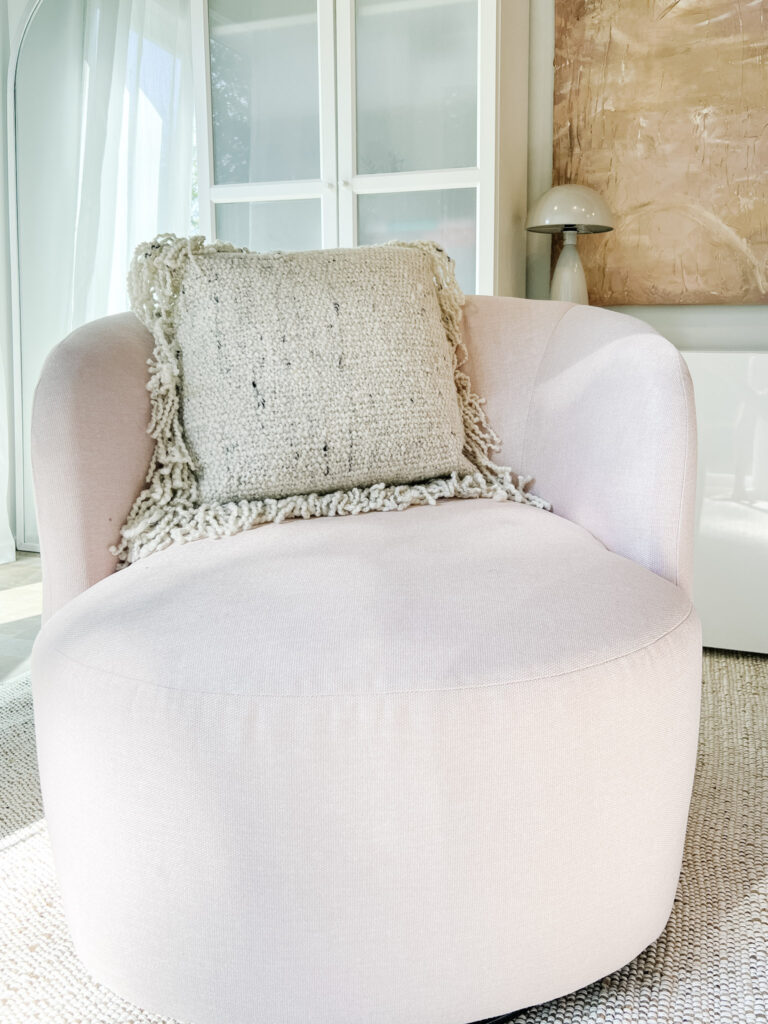 I wanted neutral pillows that would add texture but not overshadow the chairs, and these pillows turned out perfect!
As you can see, Macy was able to find furniture and accessories that brought my vision to life while staying within my budget. She even found some unique statement pieces I fell in love with like the pink chairs and the arched clothing rack.
I absolutely love my new home office and cannot believe I get to work here every single day!
Follow Along with Macy
Follow Macy's store on Instagram to shop the cutest décor pieces and follow her design account here to keep up with her latest work. If you find yourself in Columbus, MS stop by her store to see it in person!
If you have a space you would like to transform into your own dream, reach out to Macy on her website to set up a call and talk about your project. She has an incredible eye for detail and will be able to help you find the perfect pieces that fit your style and budget.
Thank you so much for following along on this journey with me!